12.09.2019 | Head and Neck | Ausgabe 12/2019 Open Access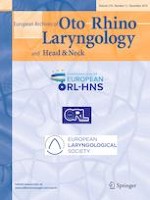 Anterolateral thigh free flap in reconstruction of lateral skull base defects after oncological resection
Zeitschrift:
Autoren:

Piotr Trojanowski, Marcin Szymański, Agnieszka Trojanowska, Adrian Andrzejczak, Dariusz Szczepanek, Janusz Klatka
Wichtige Hinweise
Publisher's Note
Springer Nature remains neutral with regard to jurisdictional claims in published maps and institutional affiliations.
Abstract
Purpose
Evaluation of the utility of the free anterolateral thigh flap reconstruction of the defects resulting from radical temporal bone resection in the management of lateral skull base malignancies in a single institution.
Methods
An analysis of 17 en bloc subtotal petrosectomies for removal of malignant tumours was performed. There were 12 squamous cell carcinomas, 4 basal cell carcinomas and 1 adenoid cystic carcinoma. The tumours were staged with the University of Pittsburgh TNM system. In all patients, the lateral temporal bone with the preservation of the petrous apex and carotid artery was performed. All patients had parotid gland resection. The post-resection defect was reconstructed with an ALT free flap.
Results
Tumour radical resection and defect reconstruction with an ALT flap was achieved in all patients without intraoperative complications. The transplants were harvested as fasciocutaneous flaps, 11 perfused by musculocutaneous and 6 by septocutaneous perforators. The ALT flaps had a mean pedicle length of 8 cm (6–12 cm), and the flap size ranged between 6 × 15 cm and 15 × 30 cm. The flaps were supplied by nine facial, five occipital and three maxillary arteries. Recipient-site veins included eight internal jugular, seven facial, one retromandibular and one external jugular vein. All arterial pedicles were anastomosed in an end-to-end manner. The veins were anastomosed with interrupted sutures and in 11 cases with Synovis-Coupler® devices. All the flap transfers were performed successfully. Three patients experienced postoperative complications.
Conclusions
The ALT flap proved to be effective for covering large temporal skull base defects resulting from the radical removal of temporal bone malignancies. The functional and cosmetic results were acceptable with a low complication rate.