10.08.2019 | Original Article | Ausgabe 12/2019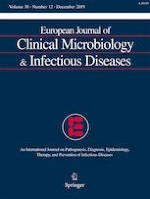 Antibiotic treatment for invasive nonpregnancy-associated listeriosis and mortality: a retrospective cohort study
Autoren:

Yaakov Dickstein, Yonatan Oster, Orit Shimon, Lior Nesher, Dafna Yahav, Yonit Wiener-Well, Regev Cohen, Ronen Ben-Ami, Miriam Weinberger, Galia Rahav, Yasmin Maor, Michal Chowers, Ran Nir-Paz, Mical Paul
Wichtige Hinweise
Electronic supplementary material
Publisher's note
Springer Nature remains neutral with regard to jurisdictional claims in published maps and institutional affiliations.
All authors have seen and approved the manuscript and contributed significantly to the work, and the manuscript has not been previously published nor is not being considered for publication elsewhere.
Data from this article were presented as a poster at the 29th European Congress of Clinical Microbiology and Infectious Diseases, April 2019.
Abstract
Little evidence exists addressing the clinical value of adding gentamicin to ampicillin for invasive listeriosis. A multicenter retrospective observational study of nonpregnant adult patients with invasive listeriosis (primary bacteremia, central nervous system (CNS) disease, and others) in 11 hospitals in Israel between the years 2008 and 2014 was conducted. We evaluated the effect of penicillin-based monotherapy compared with early combination therapy with gentamicin, defined as treatment started within 48 h of culture results and continued for a minimum of 7 days. Patients who died within 48 h of the index culture were excluded. The primary outcome was 30-day all-cause mortality. A total of 190 patients with invasive listeriosis were included. Fifty-nine (30.6%) patients were treated with early combination therapy, 90 (46.6%) received monotherapy, and 44 (22.8%) received other treatments. Overall 30-day mortality was 20.5% (39/190). Factors associated with mortality included lower baseline functional status, congestive heart failure, and higher sequential organ failure assessment score. Source of infection, treatment type, and time from culture taken date to initiation of effective therapy were not associated with mortality. In multivariable analysis, monotherapy was not significantly associated with increased 30-day mortality compared with early combination therapy (OR 1.947, 95% CI 0.691–5.487). Results were similar in patients with CNS disease (OR 3.037, 95% CI 0.574–16.057) and primary bacteremia (OR 2.983, 95% CI 0.575–15.492). In our retrospective cohort, there was no statistically significant association between early combination therapy and 30-day mortality. A randomized controlled trial may be necessary to assess optimal treatment.