10.11.2017 | Original Article | Ausgabe 1/2018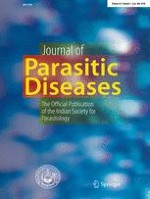 Antiplasmodial activity of two medicinal plants against clinical isolates of
Plasmodium falciparum

and

Plasmodium berghei

infected mice
Zeitschrift:
Autoren:

Serge David Dago Attemene, Sylvain Beourou, Karim Tuo, Albert Alloh Gnondjui, Abibatou Konate, Andre Offianan Toure, Seraphin Kati-Coulibaly, Joseph Alico Djaman
Abstract
Malaria is an infectious and deadly parasitic disease, associated with fever, anaemia and other ailments. Unfortunately the upsurge of plasmodium multidrug resistant constrained researchers to look for new effective drugs. Medicinal plants seem to be an unquenchable source of bioactive principles in the treatment of various diseases. The aim of this study was to assess the antiplasmodial activity of two Ivorian medicinal plants. The in vitro activity was evaluated against clinical isolates and
Plasmodium falciparum
K1 multidrug resistant strain using the fluorescence based SYBR green I assay. The in vivo bioassay was carried out using the classical 4 day suppressive and curative tests on
Plasmodium berghei
infected mice. Results showed that the in vitro bioassay of both plant extracts were found to exhibit a promising and moderate antiparasitic effects on clinical isolates (5 µg/mL < IC
50
< 15 µg/mL) and
Plasmodium falciparum
multidrug resistant K1 strain (15 µg/mL < IC
50
< 50 µg/mL). Furthermore, the in vivo antiplasmodial screening of both extracts showed a significant decrease in parasitemia, which was dose-dependent. Body temperature in mice treated with both extracts at experimental doses increased, compared to the negative control group and was dose-dependent. As for mice body weight a significant decrease (
p
< 0.001) was noticed in the negative control group compared to tested groups of animals. The hydroethanolic stem bark extract of
Anthocleista djalonensis
A Chev and leaves extract of
Ziziphus mauritiana
Lam exhibited anti-malarial activities. Therefore, the bioactive compounds of both plant extracts need to be investigated.