01.12.2018 | Research article | Ausgabe 1/2018 Open Access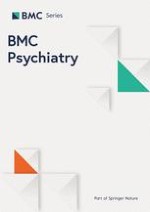 Association between hyperuricemia and metabolic syndrome in patients suffering from bipolar disorder
Zeitschrift:
Autoren:

Jingxu Chen, Hongmei Chen, Junhui Feng, Ligang Zhang, Juyan Li, Ran Li, Shaoli Wang, Ian Wilson, Alison Jones, Yunlong Tan, Fude Yang, Xu-Feng Huang
Wichtige Hinweise
Jingxu Chen and Hongmei Chen contributed equally to this work.
Abbreviations
DSM-IV
Diagnostic and Statistical Manual of Mental Disorders, 4th Edition
HDL-C
high density lipoprotein cholesterol
NCEP ATP-III A
National Cholesterol Education Program Adult Treatment Panel III Adapted criteria
SPSS
Statistical Package for the Social Sciences
Background
Bipolar disorder is a chronic mental illness, which is associated with a potentially devastating long-term impact on the patient's health, as well as their job, social relationships and families [
1
–
3
]. The World Health Organization reported that bipolar disorder was the seventh among severe diseases in the year 2000 [
4
]. People suffering from bipolar disorders have high mortality, which could result in a 10–20 year shorter lifespan compared to the general population [
5
]. These patients have a high prevalence of cardiovascular disease to which 35–40% of deaths are attributable, which is associated with metabolic syndrome [
6
]. Increased ageing population leads to high burden of bipolar disorder patients [
2
]. Therefore, it is important to investigate possible contributing factors in order to prevent metabolic syndrome, reduce cardiovascular risk, and allocate health care resources to bipolar patients.
Metabolic syndrome is characterized by visceral obesity, altered lipid and glucose profiles and hypertension, all of which are known to increase the risk of developing cardiovascular diseases and type 2 diabetes [
7
]. Although the causal factors of developing metabolic syndrome in bipolar disorder patients are largely unknown, some contributing factors are proposed. For example, the risk factors may be due to the side effects of an unhealthy lifestyle including excessive food intake and reduced energy expenditure caused by mental illness or drug treatment, or inability to access appropriate health care [
8
–
10
].
Uric acid is the final oxidative product in the degradation of purine nucleotides. It has been evidenced by several studies that high serum uric acid levels were as a potential causal factor leading to high prevalence of metabolic syndrome and its components, including central obesity, hypertension, hyperlipidemia, diabetes, and insulin resistance [
11
–
13
]. Recently, clinical studies have confirmed that bipolar patients in all phases of the illness, especially manic episode, had increased serum uric acid levels [
14
–
16
]. Study also shows that the estimated effect between bipolar disorder and uric acid levels was partially mediated by metabolic abnormalities [
17
]. Therefore, the hyperuricemia and metabolic syndrome may reciprocally affect each other, which impairs glucose and lipid metabolism. This study investigated the relationship between hyperuricemia and metabolic syndrome and its components in individuals suffering from bipolar disorder.
Methods
Results
Discussion
Prevention and treatment of hyperuricemia are clearly important in terms of reducing the prevalence of metabolic syndrome in patients suffering from bipolar disorder. Since metabolic syndrome increases the risks of a number of life threatening diseases, reinstalling hyperuricemia back to normal level may help to reduce diabetes and kidney and cardiovascular diseases in these patients.
Conclusions
Hyperuricemia is more common in bipolar patients with metabolic syndrome. The high prevalence of metabolic syndrome and hyperuricemia may be due to hyperglycemia, ageing, antipsychotic and mood stabilizer uses, illness duration, and visceral obesity. It is possible that elevated uric acid disrupts metabolic regulation and on the other hand, metabolic disorders could further worse hyperuricemia in bipolar patients. Bipolar patients with hyperuricemia and age greater than 50 years were highly prone to develop metabolic syndrome.
Acknowledgements
The authors would like to thank Ning Wang, Yanxia Kang, Xia Du, Xuanwang, and Feng Yan for all of their hard work and contributions to this study.
Funding
This study was supported by the National Key Technologies R&D Program of China (2015BAI13B01)and the Special Foundation of Beijing Municipal Science & Technology Commission, China (grant no: Z131107002213099).
Availability of data and materials
The datasets used and/or analyzed during the current study are available from the first author on reasonable request.
Ethics approval and consent to participate
This research was approved by the Human Ethics Committee of Beijing Hui-Long-Guan Hospital. All patients were provided with written informed consent. Participation was voluntary and participants could withdraw at any time from the study.
Consent for publication
Not applicable.
Competing interests
The authors have no conflicts of interest to disclose.
Publisher's Note
Springer Nature remains neutral with regard to jurisdictional claims in published maps and institutional affiliations.
Open Access
This article is distributed under the terms of the Creative Commons Attribution 4.0 International License (
http://​creativecommons.​org/​licenses/​by/​4.​0/​
), which permits unrestricted use, distribution, and reproduction in any medium, provided you give appropriate credit to the original author(s) and the source, provide a link to the Creative Commons license, and indicate if changes were made. The Creative Commons Public Domain Dedication waiver (
http://​creativecommons.​org/​publicdomain/​zero/​1.​0/​
) applies to the data made available in this article, unless otherwise stated.