01.07.2014 | Genetics | Ausgabe 7/2014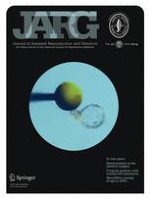 Association of the IL4R single-nucleotide polymorphism I50V with recurrent spontaneous abortion (RSA)
Zeitschrift:
Autoren:

Fataneh Tavasolian, Elham Abdollahi, Morteza Samadi
Wichtige Hinweise
Capsule
Immunological disorder is a possible reason for Recurrent spontaneous abortion (RSA). I50V as a immunological genetic variant has no association with RSA. This is first report of frequency of I50V in RSA patients and related controls.
Abstract
Background
Recurrent spontaneous abortion (RSA) is defined as three or more consecutive abortions before the 20th week of gestation. There is increasing evidence to support an immunological mechanism for the occurrence of RSA. The purpose of our study was to examine whether single-nucleotide polymorphisms (SNPs) of the interleukin-4 receptor gene IL4R influence susceptibility to, recurrent spontaneous abortion.
Materials and methods
This is a case-control study. We recruited 200 patients with RSA (case group) using established diagnostic criteria and 200, normal individuals (control group) at the fertility and infertility center in Yazd city and Isfahan city during 2012 to 2013. We screened the I50V variant in IL-4R in patients and controls by PCR-RFLF method, and we performed an association analysis between I50V variant and RSA.the data was analyzed by spss 16 software using Chi-square test.
Results
No differences in the genotype and allele frequencies of the I50V SNPs were identified between patients with RSA and healthy controls.
Conclusions
The frequency of SNP in IL-4 receptor (I50V) in patients with recurrent spontaneous abortion did not differ significantly compared with the control group. Analysis of IL4R SNP haplotypes or complex alleles suggested no dominant protection in patients with RSA.