01.12.2012 | Research article | Ausgabe 1/2012 Open Access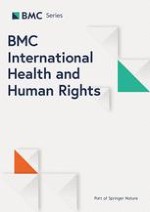 Burden of leprosy in Malawi: community camp-based cross-sectional study
Zeitschrift:
Autoren:

Kelias P Msyamboza, Leonard R Mawaya, Hudson W Kubwalo, David Ng'oma, Moses Liabunya, Sunganani Manjolo, Pilirani P Msiska, Wilson W Somba
Wichtige Hinweise
Electronic supplementary material
The online version of this article (doi:
10.​1186/​1472-698X-12-12
) contains supplementary material, which is available to authorized users.
Author Contributions
Conceived and designed the study: KPM, LRM, HWK. Performed the study: KPM, LRM, HWK, DN, ML, SM, WWS, PM. Analyzed the data: KPM, LRM, HWK. Contributed reagents/materials/analysis tools: KPM, HWK. Wrote the paper: KPM, LRM, HWK, DN, ML, SM, PPM, WWS. "All authors read and approved the final manuscript.
Abstract
Background
Although leprosy was eliminated globally in 2000, the disease continues to be the significant cause of peripheral neuropathy, disability and disfigurement in some developing countries. However, recent population-based prevalence data are lacking to inform evidence-based renewed commitment for the final push for leprosy elimination at national and sub-national levels.
Methods
Community camp-based cross-sectional descriptive study was conducted in four selected districts. World Health Organisation guidelines and tools for leprosy elimination monitoring were used to evaluate the Malawi National Leprosy Programme.
Results
A total of 6,338 people (60% females, 35% children aged less than 15 years) were examined for leprosy and other skin diseases. Prevalence of skin diseases was 18%, the commonest being fungal (9%), eczema/dermatitis (3%) and leprosy (1%). Of the fungal skin conditions, pityriasis versicolor and Tinea capatis were the commonest (22% and 21% respectively) then Tinea corporis (9%), Tinea cruris (6%) and Tinea pedis (2%). A total of 66 leprosy cases were detected out of 6,338 people screened giving a prevalence of 104.1 per 10,000 population (range by district 67.1 to 194.1). Of the leprosy cases, 37 were new, 6 were defaulters and 23 were on treatment, 30 were females and 9 were children aged less than 15 years old. Of the 37 new leprosy cases, 9 (24.3%) were children, 25 (67.6%) had 1–5 leprosy lesions and 8 (21.6%) had grade 2 disability. The most frequent location of leprosy lesions was the head and neck (24.1%), arms (24.1%), chest (17.2%), legs (13.8%), back (13.8%) and abdomen (7.0%). Between 2006 and 2011, trends of leprosy prevalence and detection increased, prevalence/detection ratios were over 1 and cure rates by cohort analysis of 2009 multibacillary and 2010 paucibacillary cases were 33% and 63% respectively far below the expected 80% although the national prevalence remained at less than 1 case per 10,000 population.
Conclusion
Leprosy was still an important public health problem in Malawi. Improving knowledge and skills of health workers, registration and recording of data, contact tracing, decentralisation and integration of treatment to health centres and introduction of leprosy awareness days and community-based surveillance could help to improve early detection, treatment, case holding and prevention of disabilities.