01.12.2015 | Case report | Ausgabe 1/2016 Open Access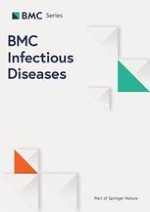 Case report: Severe central nervous system manifestations associated with aberrant efavirenz metabolism in children: the role of
CYP2B6

genetic variation
Zeitschrift:
Autoren:

Francoise Pinillos, Collet Dandara, Marelize Swart, Renate Strehlau, Louise Kuhn, Faeezah Patel, Ashraf Coovadia, Elaine Abrams
Wichtige Hinweise
Competing interests
The authors declare that they have no competing interests.
Authors' contributions
FP was involved in acquisition of data and drafting of final manuscript. CD and MS carried out genotyping analysis and interpretation, drafting of manuscript and critical revision of manuscript for important intellectual content. RS involved in data acquisition, drafting and reviewing of manuscript. LK conceived of the studies participated in and involved in the reviewing of the manuscript. FP involved in data acquisition, drafting and reviewing of manuscript. AC involved in reviewing of the manuscript. EA was involved in drafting of the manuscript, critical revision of the manuscript for important intellectual content and senior overseer. All authors read and approved the final manuscript.
Abstract
Background
Efavirenz, widely used as part of antiretroviral drug regimens in the treatment of paediatric human immunodeficiency virus infection, has central nervous system side effects. We describe four children presenting with serious, persistent central nervous system adverse events who were found to have elevated plasma efavirenz concentrations as a result of carrying
CYP2B6
single nucleotide polymorphisms, known to play a role in the metabolism of EFV. None of the children had a
CYP2B6
wildtype haplotype. We believe this is the first case of cerebellar dysfunction associated with efavirenz use to be described in children.
Case presentation
Four black African children, between the ages of 4 and 8 years presenting between 1 and 20 months post-efavirenz initiation, are described. Cerebellar dysfunction, generalised seizures and absence seizures were the range of presenting abnormalities. Plasma efavirenz levels ranged from 20-60 mg/L, 5–15 times the upper limit of the suggested reference range. All abnormal central nervous system manifestations abated after efavirenz discontinuation.
Conclusion
Efavirenz toxicity should always be considered in human immunodeficiency virus-infected children with unexplained central nervous system abnormalities. Our findings further our understanding of the impact of genetic variants on antiretroviral pharmacokinetics in children across various ethnic groups. Screening for potential EFV-toxicity based on the
CYP2B6 c.516
SNP alone, may not be adequate.