14.11.2017 | Original Research | Ausgabe 4/2017 Open Access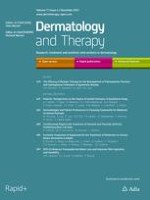 Certolizumab Pegol in the Treatment of Psoriasis and Psoriatic Arthritis: Preliminary Real-Life Data
Zeitschrift:
Autoren:

Annunziata Dattola, Maria Vittoria Cannizzaro, Mauro Mazzeo, Luca Bianchi
Wichtige Hinweise
Annunziata Dattola and Maria Vittoria Cannizzaro contributed equally to the work.
Abstract
Introduction
We present the results of real-life tests conducted in adults affected by psoriatic arthritis (PsA) with mild cutaneous involvement to evaluate the efficacy of certolizumab pegol (CZP), an anti-tumor necrosis factor-alpha agent approved in Europe for the treatment of rheumatoid arthritis and PsA.
Method
s
Assessments included an evaluation of the Psoriasis Area and Severity Index (PASI) and the Disease Activity Score computed on 44 joints (DAS-44) correlated to the erythrocyte sedimentation rate (ESR) (DAS44-ESR). A total of 41 patients (16 men, 25 women; mean age 59.8 ± 8 years) completed the study. Of these, 36 patients were affected by both PsA and psoriasis, and five patients were affected only by PsA. A total of 32 patients (group A) completed 3 months of treatment (W12), and 12 patients completed 6 months of treatment (W24) (group B).
Results
The clinical efficacy of CZP was consistent on both the cutaneous and rheumatic components of the treatment. The mean PASI score decreased from 4.4 ± 4.7 at baseline (BL) to 2.3 ± 3.7 at W12 (group A), and from 5.1 ± 5.7 at BL to 0.8 ± 1.2 at W24 (group B). The DAS44-ESR decreased from 4.4 ± 0.6 at BL to a mean of 2.2 ± 0.9 at W12 (group A) and from 4.1 ± 0.6 at BL to a mean of 1.9 ± 0.5 at W24 (group B). No adverse events were reported.
Conclusion
Our results demonstrate that CZP can be used safely and effectively to treat both the cutaneous and joint components of PsA. However, long-term data are needed to confirm our preliminary observations.