01.12.2015 | Research article | Ausgabe 1/2015 Open Access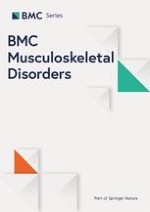 Cervical Arthroplasty for Traumatic Disc Herniation: An Age- and Sex-matched Comparison with Anterior Cervical Discectomy and Fusion
Zeitschrift:
Autoren:

Hsuan-Kan Chang, Wen-Cheng Huang, Jau-Ching Wu, Tsung-Hsi Tu, Li-Yu Fay, Peng-Yuan Chang, Ching-Lan Wu, Huang-Chou Chang, Yu-Chun Chen, Henrich Cheng
Wichtige Hinweise
Competing interests
The authors declare that they have no competing interests.
Authors' contributions
HKC, WCH, and JCW have made contributions to conception and design, or acquisition of data, or analysis and interpretation of data, writing the manuscript. TH T, LYF, PYC, and YCC have contributed in drafting the manuscript or revising it critically for important intellectual content. CLW, HCC, and HC have contributed in design, interpretation of data, and critically revising the manuscript. All authors reviewed and approved the final version of the manuscript.
Abstract
Background
The efficacy and safety of using cervical arthroplasty for degenerative disc disease have been demonstrated by prospective, randomized and controlled clinical trials. However, there are scant data on using cervical arthroplasty for traumatic disc herniation. Therefore, this study aimed to investigate the outcomes of patients who underwent cervical arthroplasty for traumatic disc herniation.
Methods
This cohort included patients who were admitted through the emergency department for trauma. Only patients who had newly-onset, one- or two-level cervical disc disease causing radiculopathy or myelopathy were identified. None of these patients had previously sought for medical attention for such problems. Those patients who had severe spinal cord injury (i.e. American Spinal Injury Association scale A, B or C) or severe myelopathy (i.e. Nurick scale 4 or 5), bony fracture, dislocation, perched facet, kyphotic deformity, or instability were also excluded. An age- and sex-matched one-to-one comparison was made between patients who underwent cervical arthroplasty, on the one hand, and anterior cervical discectomy and fusion (ACDF).
Results
A total of 30 trauma patients (15 in the arthroplasty group and 15 in the ACDF group) were analyzed, with a mean follow-up of 29.6 months. The demographic data were similar. Post-operation, the arthroplasty group had significant improvement in VAS of neck and arm pain, JOA, and NDI when compared to their pre-operation status. Similarly, the ACDF group also improved significantly after the operation. There were no differences between the two groups in post-operative VAS neck and arm pain, and JOA scores. The arthroplasty group maintained a range of motion in the indexed levels and had better NDI scores at 6-months post-operation than the ACDF group.
Conclusions
For selected patients (i.e. no spinal cord injury, no fracture, and no instability) with traumatic cervical disc herniation, cervical arthroplasty yields similar improvement in clinical outcomes to ACDF and preserves segmental mobility.