11.11.2017 | Original Research Article | Ausgabe 1/2018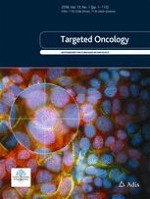 A phase II Study Evaluating Combined Neoadjuvant Cetuximab and Chemotherapy Followed by Chemoradiotherapy and Concomitant Cetuximab in Locoregional Oesophageal Cancer Patients
Zeitschrift:
Autoren:

Maria Alsina, Fernando Rivera, Francisco Javier Ramos, Maica Galán, Rafael López, Pilar García-Alfonso, José Enrique Alés-Martinez, Bernardo Queralt, Antonio Antón, Alfredo Carrato, Cristina Grávalos, Maria José Méndez-Vidal, Carlos López, Inmaculada Ruiz de Mena, Josep Tabernero, Jordi Giralt, Enrique Aranda, on behalf of the Spanish Cooperative Group for the Treatment of Digestive Tumors (TTD) and Grupo de Investigación Clínica en Oncología Radioterápica (GICOR)
Wichtige Hinweise
Electronic supplementary material
Errors were subsequently identified in the article and the following corrections should be noted:
The title of the article, which previously read "Cetuximab/TPF/radiotherapy in oesophageal cancer"
should read: A Phase II Study Evaluating Combined Neoadjuvant Cetuximab and Chemotherapy Followed by Chemoradiotherapy and Concomitant Cetuximab in Locoregional Oesophageal Cancer Patients.
The original article was revised.
Abstract
Background
Pre-operative chemoradiotherapy using a 5-fluorouracil (5-FU)/cisplatin backbone is widely used to improve surgical outcomes in locoregional oesophageal cancer patients, despite a non-negligible failure rate.
Objective
We evaluated intensification of this approach to improve patient outcomes by adding cetuximab to induction 5-FU/cisplatin/docetaxel (TPF) and to chemoradiotherapy in a phase II study.
Patients and Methods
Between November 2006 and April 2009, 50 patients with stage II–IVa squamous cell carcinoma (SCC) or adenocarcinoma of the oesophagus or gastro-oesophageal junction initiated three TPF/cetuximab cycles. Six weeks later, patients with response or stabilisation initiated 6 weeks of cisplatin/cetuximab/radiotherapy, followed by surgery. The primary objective was the clinical complete response (cCR) rate after induction therapy plus chemoradiotherapy in intent-to-treat patients.
Results
Thirty-eight patients were evaluable after chemoradiotherapy, 84% of whom showed disease control. Six patients (12%) achieved a cCR, with a 54% overall response rate. Twenty-seven patients underwent surgery, 11 of whom (22%; nine SCC, two adenocarcinoma) had a pathological CR (41%). Fifteen patients were alive after a median follow-up of 23.2 months. Median progression-free survival was 12.2 months (95% confidence interval [CI] 1.7–22.8). Median overall survival was 23.4 months (95% CI 12.2–36.6) and was significantly longer among the 22 patients with complete resection than in the five patients without (42.1 vs. 24.9 months;
p
= 0.02, hazard ratio: 3.6, 95% CI 1.1–11.6). The toxicity profile was acceptable.
Conclusions
Neoadjuvant cetuximab/TPF followed by chemoradiotherapy in locoregional oesophageal carcinoma patients is feasible and offers a modest response rate in this trial. The results of combining trimodality neoadjuvant treatment with cetuximab are consistent with the literature.
Registration: The study is registered at
ClinicalTrials.​gov
(NCT00733889).
×