01.08.2011 | Gastrointestinal Oncology | Ausgabe 8/2011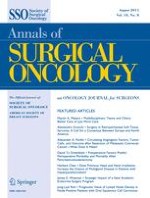 Childbearing After Hyperthermic Intraperitoneal Chemotherapy: Results From an International Survey
Zeitschrift:
Autoren:

MD, PhD Pablo Ortega-Deballon, MD, PhD Olivier Glehen, MD Edward Levine, MD Pompiliu Piso, MD Paul H. Sugarbaker, MD Andrea Hayes-Jordan, MD Audrey Facy, MD Naoual Bakrin, MD Patrick Rat
Abstract
Background
Cytoreductive surgery (CRS) and heated intraperitoneal chemotherapy (HIPEC) can improve survival in selected patients with primary or secondary peritoneal malignancies. With the opportunity for long-term survival, questions about the impact of those procedures in fertility in women of childbearing age can be raised.
Materials and Methods
An international survey was performed among all teams participating in the International Peritoneal Surface Malignancy Group in order to collect data about pregnancies and their outcome in women having undergone previous CRS with adjuvant HIPEC.
Results
There were 7 pregnancies reported after CRS and HIPEC in women treated for peritoneal malignancies. All these women conceived spontaneously, most of them within 2 years after the procedure. They delivered most often by vaginal way after an uneventful pregnancy. Their newborns were healthy, except 1 case of congenital diaphragmatic hernia requiring emergent surgery. There were 2 additional uneventful pregnancies reported after the diagnosis of pseudomyxoma peritonei and before CRS and HIPEC, with the support of the medical team. Another woman having undergone oocytes retrieval and embryo cryopreservation prior to the surgery was mother of twins after the procedure via a surrogate mother.
Conclusion
Childbearing after cytoreductive surgery and heated intraperitoneal chemotherapy is possible in women conserving their genital organs after the procedure. The question of fertility should be considered and discussed in women in reproductive age prior to cytoreductive surgery and heated intraperitoneal chemotherapy. Different options could be offered in this setting. Multidisciplinary decision making involving surgical oncologists and fertility specialists is important.