01.12.2017 | Research article | Ausgabe 1/2017 Open Access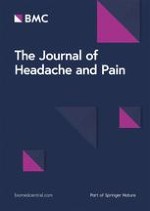 Clinical patterns of primary stabbing headache: a single clinic-based prospective study
Zeitschrift:
Autoren:

Dong Yeop Kim, Mi Ji Lee, Hyun Ah Choi, Hanna Choi, Chin-Sang Chung
Abstract
Background
The clinical features and disease courses of primary stabbing headache (PSH) are diverse. We aimed to identify distinct clinical patterns of PSH.
Methods
We prospectively screened consecutive first-visit patients who presented with stabbing headache at the Samsung Medical Centre Headache Clinic from June 2015 to March 2016. Demographics, headache characteristics, and disease courses were prospectively evaluated. After discerning factors related to the chronicity at the time of presentation, clinical patterns were identified based on the frequency (daily vs. intermittent), clinical course (remitted or not), and total disease duration (<3 or >3 months).
Results
In the 65 patients with PSH included in this study, monophasic (
n
 = 31), intermittent (
n
 = 17), and chronic daily (
n
 = 12) patterns were identified. The median disease durations were 9 days for monophasic PSH, 9 months for chronic daily PSH, and 2 years for intermittent PSH. The features of monophasic PSH were greater severity, single and side-locked locations, more attacks per day, daily occurrence, and good treatment response. Chronic daily PSH was associated with female predominance, longer-lasting stabs, and multiple or migrating locations on bilateral or alternating sides. The characteristics of intermittent PSH included female predominance and sporadic stabs with less intensity.
Conclusions
Our study demonstrated distinct clinical patterns of PSH. In addition to help early recognition of disease, our findings suggest different pathophysiologic mechanisms. Future prospective studies are required to reveal the etiologies of these different PSH patterns and their optimal treatment strategies.