01.12.2017 | Research article | Ausgabe 1/2017 Open Access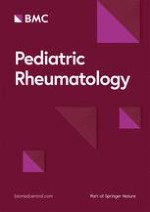 Clinical study of children with Takayasu arteritis: a retrospective study from a single center in China
Zeitschrift:
Autoren:

Ye Feng, Xuemei Tang, Mingyue Liu, Juan Zhou, Xiaodong Zhao, Qiu Li
Wichtige Hinweise
Electronic supplementary material
The online version of this article (doi:
10.​1186/​s12969-017-0164-2
) contains supplementary material, which is available to authorized users.
Abbreviations
ANCA
Anti-neutrophil cytoplasmic antibody
BVAS
Birmingham vasculitis activity score
CTA
Computed tomographic angiography
ESR
Erythrocyte sedimentation rate
ITAS2010
Indian Takayasu clinical activity score
PVAS
Pediatric vasculitis activity score
RAAS
Renin-angiotensin-aldosterone system
Background
Takayasu arteritis (TA) is a chronic type of systemic large vessel vasculitis, mainly involving the aorta and its main branches. Early symptoms include systemic inflammation and ischemia of involved organs [
1
].
Unfortunately, diagnosis of childhood TA is often delayed, particularly in children under 10 years old, a factor that contributes to cardiovascular damage and mortality [
2
,
3
]. Therefore, many studies have attempted to identify new technologies that are both reliable and sensitive, for example,
18
F-fluorodeoxyglucose (
18
F-FDG) positron emission tomography-computed tomography (PET-CT) [
4
]. Although such technologies have made diagnosis more timely and accurate, the most important factor that will yield an early diagnosis is an improvement in doctors' clinical thinking and selection of the relevant tests/examinations.
Here, we performed a retrospective analysis of children diagnosed with TA at a single Chinese center and summarize the clinical features and follow-up data. The aim is to help clinicians reach an early diagnosis and to improve the management of chronic vasculitis.
Methods
The study enrolled 11 children diagnosed with TA at our hospital from 2000 to 2015. Demographic data, clinical manifestations, laboratory and imaging results, diagnostic and therapeutic processes, and outcomes were then analyzed retrospectively. All patients were followed up via regular clinic visits or by telephone interview.
Diagnostic criteria
Patients were assessed according to the 2008 EULAR/PRINTO/PRES criteria [
5
], which include angiographic abnormality (conventional, CT, or MRI) of the aorta or its main branches and pulmonary arteries (mandatory criterion) plus at least one of the following: (1) absence of the peripheral artery pulse or claudication induced by physical activity; (2) a >10 mm Hg difference in systolic BP in all four limbs; (3) Bruits over large arteries; (4) hypertension (when compared with age-matched healthy children); and (5) increased levels of acute phase reactants (erythrocyte sedimentation rate(ESR) and/or C reactive protein(CRP). Fibromuscular dysplasia or similar causes were excluded.
Evaluation of disease activity
Two tools were used for retrospective evaluation: the Pediatric Vasculitis Activity Score (PVAS) and the Indian Takayasu Clinical Activity Score (ITAS-2010) [
6
,
7
]. The PVAS is derived from the Birmingham Vasculitis Activity Score (BVAS) and is specific for pediatric vasculitis. It assesses new or worsening features occurring during the last 4 weeks or symptoms that have persisted for 3 months. It is comprised of nine sections with a total score of 63. The ITAS-2010 is a tool specific for Takayasu arteritis and comprised of six organ-based systems. It evaluates new symptoms or symptoms that have worsened during the last 3 months, the maximum score is 51. The ITAS-A score is equivalent to the ITAS-2010 score plus the acute phase reactant (ESR and CRP) scores, which increases the maximum score to 57 [
6
,
7
]. The brief comparison between PVAS and ITAS-2010 showed in Additional file
1
(not in the text).
Evaluation of treatment effects
A treatment was deemed effective if it resulted in improved clinical symptoms, a reduction in blood pressure, no radiographic progression, or a reduction in disease activity scores.
Data management
Statistical analysis was performed using SPSS version 19.0. Data were expressed as the median or mean, and the significance of differences was evaluated using Student's
t
-test or the Mann-Whitney
U
-test as appropriate. Spearman's rank correlation analysis was used to examine associations between the PVAS and ITAS.
Results
Discussion
Pediatric TA is a common form of childhood chronic vasculitis that has various clinical manifestations, including fever, hypertension, kidney damage, and other inflammatory symptoms. Even today, the rate of under diagnosis and misdiagnosis is high due to atypical symptoms.
Conclusions
The clinical manifestations of childhood TA vary widely. For children with hypertension combined with high levels of inflammatory markers and abnormal urine results, TA should be considered in the differential. Doppler ultrasound scanning of major vessels can be used as a screening tool for early TA diagnosis. PVAS and ITAS-2010 are both helpful for evaluating disease activity in pediatric TA. However, we recommend PVAS as a disease activity assessment tool for patients with kidney damage. Glucocorticoids and antihypertensive agents are effective treatments, and biological agents are being explored. Also, interventional therapy can be an option for those with TA and resistant hypertension.
This is the first study to examine the onset of childhood TA and the use of PVAS and ITAS to monitor disease activity in those with childhood TA in China. However, it should be noted that this study was retrospective in nature and the number of cases was small, raising the possibility of selection bias. Future studies will require a larger sample size and longer-term follow-up to provide more reliable clinical information about pediatric TA.
Acknowledgements
The authors gratefully acknowledge the technical supports by Department of Medical Records Management of Children's Hospital of Chongqing Medical University, as well as understanding and support by all patients and their parents.
Funding
Chongqing Science and Technology Commission-[2012]-No. 27-cstc2012jjA10077.
Availability of data and materials
The datasets used and/or analysed during the current study are available from the corresponding author on reasonable request.
Authors' contributions
All authors contributed extensively to the work presented in this paper. FY finished the study design, data acquisition and analysis, and manuscript drafting and revisions. TX contributed to the conception and design of the study, data analysis, and manuscript drafting and revisions. LM and ZJ assisted with data interpretation and provided critical manuscript revision. LQ and ZX provided critical manuscript revision. All authors read and approved the final manuscript.
Competing interests
The authors declare that they have no competing interests.
Consent for publication
We have obtained consent to publish from Children's hospital of Chongqing Medical University.
Ethics approval and consent to participate
We have obtained consent to publish from Children's hospital of Chongqing Medical University ethics committee, and we have obtained consent to the participants.
Publisher's Note
Springer Nature remains neutral with regard to jurisdictional claims in published maps and institutional affiliations.
Open Access
This article is distributed under the terms of the Creative Commons Attribution 4.0 International License (
http://​creativecommons.​org/​licenses/​by/​4.​0/​
), which permits unrestricted use, distribution, and reproduction in any medium, provided you give appropriate credit to the original author(s) and the source, provide a link to the Creative Commons license, and indicate if changes were made. The Creative Commons Public Domain Dedication waiver (
http://​creativecommons.​org/​publicdomain/​zero/​1.​0/​
) applies to the data made available in this article, unless otherwise stated.