01.12.2018 | Research article | Ausgabe 1/2018 Open Access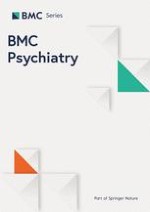 Computer-assisted cognitive remediation therapy increases hippocampal volume in patients with schizophrenia: a randomized controlled trial
Zeitschrift:
Autoren:

Tsubasa Morimoto, Yasuhiro Matsuda, Kiwamu Matsuoka, Fumihiko Yasuno, Emi Ikebuchi, Hiroyuki Kameda, Toshiaki Taoka, Toshiteru Miyasaka, Kimihiko Kichikawa, Toshifumi Kishimoto
Abbreviations
BACS-J
Brief Assessment of Cognition in Schizophrenia
BDNF
brain-derived neurotrophic factor
CRT
cognitive remediation therapy
JART
National Adult Reading Test, Japanese Version
Jcores
Japanese Cognitive Rehabilitation Program for Schizophrenia
LASMI
Life Assessment Scale for the Mentally Ill
MRI
magnetic resonance imaging
PANSS
Positive and Negative Syndrome Scale
TIV
total intracranial volume
VCAT-J
Vocational Cognitive Ability Training by Jcores
Background
Methods
Participants and procedure
We recruited patients from one university hospital and two private hospitals by posters placed in the outpatient department and the day-treatment unit. Overseeing medical professionals have declared that all participants were capable of providing consent for themselves. To meet the selection criteria of the study, participants were required to: be of outpatient status, meet the criteria for schizophrenia established by the Diagnostic and Statistical Manual of Mental Disorders-Fourth Edition (Text Revision), and be aged between 20- and 60-years-old at the time of registration. Patients were excluded if they exhibited evidence of an organic central nervous system disorder, a history of drug or alcohol abuse, or intellectual disability.
Thirty-three patients consented to participate in this study, but one was excluded because of an organic disease (subdural hygroma), and another declined to undergo MRI because of possible pregnancy. A controlled, randomized study was conducted with two groups. Using a central registration system, participants were randomly assigned to either a CRT group (
n
 = 16) that was treated immediately or a waitlist control group (
n
 = 15) that continued treatment as usual (TAU) for 12 weeks before beginning CRT. All participants were followed up for 12 weeks, underwent T1-weighted MRI, and underwent clinical and neuropsychological assessments before and after intervention, which was performed by personnel blinded to the group assignments.
Treatments
All participants were prescribed antipsychotics and received standard outpatient treatment. Participants in the CRT group completed computerized Jcores training, which exercises a broad range of cognitive functions, including attention, psychomotor speed, learning, verbal fluency, memory, and executive function. Each domain of the Jcores includes three to seven game types, and each game has five difficulty levels. Participants were asked to select specific cognitive domains and to adjust the task difficulty according to their abilities. For 12 weeks, the CRT group completed twice-weekly, hour-long computerized training sessions and weekly, hour-long group sessions, the purposes of which were to help establish associations between the computerized CRT and daily life or work performance as well as to aid in setting and tracking each participant's individualized community life and/or work goals [
7
]. This study's VCAT-J training procedures were identical to those of our previous study [
11
]. Psychiatrists or psychologists with computer-assisted CRT [
6
] study experience monitored all VCAT-J sessions.
TAU group participants primarily received medication and medical care from psychiatrists. Participants in the TAU group were also referred for social welfare and received assistance from a medical social worker as needed.
Clinical assessments
Symptom severity was assessed using the Positive and Negative Syndrome Scale [
19
]. Neurocognitive function was assessed using the BACS-J, which has been validated as a reliable and practical evaluation of neurocognitive function in patients with schizophrenia [
20
]. The BACS-J tests verbal memory, working memory, motor speed, verbal fluency, attention and information processing speed, and executive function. Composite BACS-J scores were calculated by averaging z-scores from the six subcomponents, which were in turn calculated from the means and standard deviations extracted from a dataset of 64 healthy control Japanese individuals [
21
], age-matched to this study's participants.
Functions related to daily life and community interactions were assessed using the Life Assessment Scale for the Mentally Ill [
22
], which measures a patient's social skills in five categories of daily life: 1) daily living, 2) interpersonal relations, 3) work skills, 4) endurance and stability, and 5) self-recognition. Each category has several items that are rated on a five-point scale (0 = "no problem," 4 = "serious problem"). In this study, we used scores from the interpersonal relations and work skills categories.
All neuropsychological assessments were evaluated by psychiatrists or psychologists uninvolved in CRT or regular outpatient treatment.
MRI data acquisition
All MRI examinations were performed using a 3.0-T clinical scanner (Magnetom Verio; Siemens, Erlangen, Germany) with a 32-channel phased-array brain coil. High-resolution, three-dimensional T1-weighted images were acquired using a magnetization-prepared rapid gradient-echo sequence (repetition time = 1800 ms, echo time = 2.4 ms, flip angle = 10°, field of view = 256 mm; 208 sagittal plane sections; acquisition matrix = 256 × 256; acquired resolution = 1 × 1 × 1 mm3).
Image processing
Image preprocessing and statistical analyses were performed with the SPM12 software (Wellcome Trust Centre for Neuroimaging, London, UK;
http://​www.​fil.​ion.​ucl.​ac.​uk/​spm
), and voxel-based morphometry was performed using the Computational Anatomy Toolbox for SPM (CAT12; Jena University Hospital Departments of Psychiatry and Neurology, Jena, Germany;
http://​dbm.​neuro.​uni-jena.​de/​cat/​
) running on MATLAB R2014a (MathWorks, Natick, MA). We used the default preprocessing approach to analyze longitudinal data in CAT12. T1-weighted images were subjected to intra-subject realignment, bias correction, tissue segmentation into GM, white matter, and cerebrospinal fluid; and registration using linear (affine registration) and nonlinear transformations through Diffeomorphic Anatomical Registration Through Exponentiated Lie Algebra [
23
] within a unified model [
24
]. GM segments were subsequently analyzed by multiplying them by the nonlinear components derived from the normalization matrix to preserve actual local GM values (modulated GM volumes). Finally, the modulated and normalized GM segments (voxel size = 1.5 × 1.5 × 1.5 mm
3
) were smoothed using a Gaussian kernel of 8-mm full-width at half-maximum.
Statistical analysis
We performed between-group comparisons of baseline demographic and clinical characteristics using two-sample student's
t
and chi-square tests. Post-intervention changes in psychiatric symptoms, neurocognitive function, and social function were examined using analyses of variance (ANOVAs). We defined statistical significance as
P
 < 0.05.
We performed an voxel-based analysis to investigate the relationship between post-CRT rehabilitation and GM volume changes, organizing a two-time (baseline versus 12-week follow-up) × two-group (CRT group versus TAU group) flexible factorial design in SPM12. We thus had four conditions: the CRT group at baseline, CRT group at follow-up, TAU group at baseline, and TAU group at follow-up. To test our hypothesis that rehabilitation would increase regional brain volumes, we investigated the interaction effect of increased post-rehabilitation volume by comparing volume increases in the CRT group to those in the TAU group. We used global scaling by total intracranial volume (TIV) to correct for different brain sizes. To avoid possible edge effects between different tissue types, we excluded all voxels outside the GM with absolute threshold masking. The mean TIV was 1619 cm
3
, and all images were globally scaled to a value of 50, creating an overall scaling of 50/1619. To obtain an absolute threshold of 0.2, we multiplied 0.2 by 50/1619. As this was a hypothesis-led analysis, we applied a liberal significance threshold of
P
 < 0.001 with a 35-voxel whole-brain extent. Volumes of interest (VOIs) were determined from clusters where significant interactions were found. Regional volumes were calculated by averaging the values for all voxels within the VOIs. VOI volume changes over the intervention were compared between groups using repeated-measures ANOVAs.
We used Spearman's correlation analysis to examine how VOI volume changes were related to various metrics in which the CRT group exhibited significantly greater improvements than the TAU group. Statistical analyses were performed using SPSS for Windows v. 21.0 (IBM, Armonk, NY).
Results and statistical analyses
Discussion
Conclusion
In summary, we found that computer-assisted CRT can promote right hippocampal GM growth in patients with schizophrenia. We also found that right hippocampal volume changes were positively correlated with alterations in verbal fluency scores. These findings enhance our understanding of hippocampal neuroplasticity and encourage the development of CRT interventions to improve cognitive and daily functions in patients with schizophrenia.
Acknowledgments
We thank Shunichi Furukawa, MD from the Department of Psychiatry at Tokyo Metropolitan Police Hospital in Tokyo, Japan; Sayaka Sato, PhD from the Department of Psychiatric Rehabilitation, National Center of Neurology and Psychiatry at the National Institute of Mental Health in Tokyo, Japan; Norifumi Hatsuse, PhD from the Department of Psychiatry at Teikyo University School of Medicine in Tokyo, Japan; Kazuhiko Iwata, MPH at the Center for Clinical Research and Development Initiative, Osaka Psychiatric Medical Center in Osaka, Japan; Mieko Kimura, PhD, independent; and Nobuhiro Tsukie, PhD at the Cyber Creative Institute; for their help in developing VCAT-J. We also express our appreciation to the staff of the MRI facility at the Nara Medical University Department of Radiology in Japan for subject care and data acquisition during the MRI procedures.
Funding
This work was supported by the Japan Society for the Promotion of Science Grants-in-Aid for Scientific Research Program [grant numbers JP25861024, JP16K19779, and JP16H05377].
Availability of data and materials
The dataset analyzed in the current study is not publicly available as individual privacy could be compromised.
Ethics approval and consent to participate
All patients provided written informed consent to participate in this study. Overseeing medical professionals have declared that all participants were capable of providing consent for themselves.
This study was approved by the Research Ethics Committee at the Nara Medical University (no. 702) and conformed to the principles of the Declaration of Helsinki.
Consent for publication
Not applicable.
Competing interests
The authors declare that they have no competing interests.
TM1 and TM2. TM1 would correspond to the author furthest up on the author list.
Publisher's Note
Springer Nature remains neutral with regard to jurisdictional claims in published maps and institutional affiliations.
Open Access
This article is distributed under the terms of the Creative Commons Attribution 4.0 International License (
http://​creativecommons.​org/​licenses/​by/​4.​0/​
), which permits unrestricted use, distribution, and reproduction in any medium, provided you give appropriate credit to the original author(s) and the source, provide a link to the Creative Commons license, and indicate if changes were made. The Creative Commons Public Domain Dedication waiver (
http://​creativecommons.​org/​publicdomain/​zero/​1.​0/​
) applies to the data made available in this article, unless otherwise stated.