01.12.2012 | Research | Ausgabe 1/2012 Open Access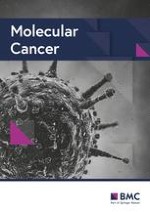 Cooperative interaction of MUC1 with the HGF/c-Met pathway during hepatocarcinogenesis
Zeitschrift:
Autoren:

Giray Bozkaya, Peyda Korhan, Murat Çokaklı, Esra Erdal, Özgül Sağol, Sedat Karademir, Christopher Korch, Neşe Atabey
Wichtige Hinweise
Electronic supplementary material
The online version of this article (doi:
10.​1186/​1476-4598-11-64
) contains supplementary material, which is available to authorized users.
Giray Bozkaya, Peyda Korhan contributed equally to this work.
Competing interests
The authors declare that they have no competing interests.
Authors' contributions
GB and PK carried out western blot and co-immunoprecipitation experiments and drafted the manuscript with NA. PK and MC both participated in experimental procedures related with MUC1 silencing. PK also carried out motility and invasion experiments. ÖS performed the immunohistochemical analysis on tissue samples and analyzed them. SK provided tissue samples and clinical data. NA supervised project, made substantial contributions to conception and design of the study, analysis and interpretation of data, and wrote the main manuscript. EE gave technical support and conceptual advice and edited the manuscript for intellectual content. CK performed cell line authentication experiments and critically edited the manuscript. All authors read and approved the final version of manuscript.
Abstract
Background
Hepatocyte growth factor (HGF) induced c-Met activation is known as the main stimulus for hepatocyte proliferation and is essential for liver development and regeneration. Activation of HGF/c-Met signaling has been correlated with aggressive phenotype and poor prognosis in hepatocellular carcinoma (HCC). MUC1 is a transmembrane mucin, whose over-expression is reported in most cancers. Many of the oncogenic effects of MUC1 are believed to occur through the interaction of MUC1 with signaling molecules. To clarify the role of MUC1 in HGF/c-Met signaling, we determined whether MUC1 and c-Met interact cooperatively and what their role(s) is in hepatocarcinogenesis.
Results
MUC1 and c-Met over-expression levels were determined in highly motile and invasive, mesenchymal-like HCC cell lines, and in serial sections of cirrhotic and HCC tissues, and these levels were compared to those in normal liver tissues. Co-expression of both c-Met and MUC1 was found to be associated with the differentiation status of HCC. We further demonstrated an interaction between c-Met and MUC1 in HCC cells. HGF-induced c-Met phosphorylation decreased this interaction, and down-regulated MUC1 expression. Inhibition of c-Met activation restored HGF-mediated MUC1 down-regulation, and decreased the migratory and invasive abilities of HCC cells via inhibition of β-catenin activation and c-Myc expression. In contrast, siRNA silencing of MUC1 increased HGF-induced c-Met activation and HGF-induced cell motility and invasion.
Conclusions
These findings indicate that the crosstalk between MUC1 and c-Met in HCC could provide an advantage for invasion to HCC cells through the β-catenin/c-Myc pathway. Thus, MUC1 and c-Met could serve as potential therapeutic targets in HCC.