12.06.2020 | Case Based Review | Ausgabe 8/2020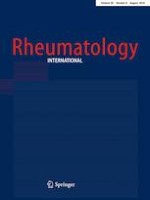 Crystalglobulinemia manifested as acute renal failure and thrombotic vasculopathy
Zeitschrift:
Autoren:

L. Gómez-Lechón Quirós, M. E. Acosta De La Vega, O. Compán Fernández, S. Pastor Navarro, C. Montilla Morales, D. Moyano Bueno, J. Martín Centellas, A. Santos-Briz Terrón, C. Hidalgo Calleja
Wichtige Hinweise
Publisher's Note
Springer Nature remains neutral with regard to jurisdictional claims in published maps and institutional affiliations.
Abstract
Crystalglobulinemia is an extremely rare pathology that is associated in most cases with plasma cell dyscrasia, mainly multiple myeloma. In most cases, it may be the manifestation of incipient gammopathy or it manifests shortly after diagnosis. We report a patient with ischemic lesions of thrombotic origin in lower limbs. Subsequently, renal involvement occurs, in view of this involvement, it is suspected that the patient may have an associated vasculitis. After performing the biopsy and with the subsequent diagnosis of monoclonal gammopathy of uncertain significance, the diagnosis is made. We review the most recent bibliography of patients who have been diagnosed with crystalglobulinemia associated with plasma dyscrasia focusing in those with thrombotic vasculopathy or acute renal failure. In our case, in addition to being associated with monoclonal gammopathy of undetermined significance that is less frequent, the debut of the symptoms is years before the detection of the monoclonal peak. This could speak of patients with a low peak of monoclonal component (not detected by immunoelectrophoresis) who could have kidney and vascular damage.