01.05.2019 | Research | Sonderheft 1/2019 Open Access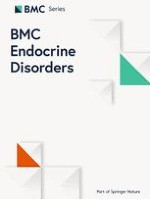 Current concepts in parathyroid carcinoma: a single Centre experience
Zeitschrift:
Autoren:

Valentina Ferraro, Lucia Ilaria Sgaramella, Giovanna Di Meo, Francesco Paolo Prete, Francesco Logoluso, Francesco Minerva, Marica Noviello, Giuseppina Renzulli, Angela Gurrado, Mario Testini
Wichtige Hinweise
Valentina Ferraro and Lucia Ilaria Sgaramella contributed equally to this work.
Abbreviations
FIHP
Familial isolated hyperparathyroidism
FNAC
Fine Needle Aspiration Cytology
HPT-JT
Hyperparathyroidism jaw tumour syndrome
MEN 2A
Multiple Endocrine Neoplasia type 2A
MEN1
Multiple Endocrine Neoplasia type 1
MIBI
Technetium- 99 m Sestamibi scintigraphy
MRI
Magnetic Resonance Imaging
PHPT
Primary hyperparathyroidism
RLN
Recurrent laryngeal nerve
TSH
Thyroid-stimulating hormone
Background
Parathyroid carcinoma (PC) is an uncommon malignancy, less than 1000 recorded cases reported in literature since described by de Quervain in 1904 [
1
] as a non-functioning metastatic carcinoma [
2
–
6
]. With an estimated prevalence of 0.005% of all cancers [
7
,
8
] PC is the rarest endocrine cancer, and accounts for 0.5–5% of all circumstances of primary hyperparathyroidism (PHPT) [
6
,
7
,
9
–
13
]. Pathogenesis of PC is unknown. It may be sporadic or occur in the context of a genetic endocrine syndrome as in hyperparathyroidism/jaw tumour syndrome (HPT-JT), Multiple Endocrine Neoplasia type 1 (MEN1), type 2A (MEN2A), and familial isolated hyperparathyroidism (FIHP) [
14
–
16
]. PC poses a diagnostic challenge because of the absence of characteristics that allow definite distinction of malignant from benign disease. Due to its rarity, there is no general consensus on treatment and follow-up. In a previous study we addressed parathyroid carcinoma arising in the context of MEN1syndrome [
17
]. The aim of this study is to appraise the recent literature on management of PC with respect to three illustrative cases of PCs treated consecutively at our Institution over the last 5 years.
Methods
From January 2013 to December 2017, from 358 patients affected by parathyroid (PTs) disease, 3 patients (0.8%) were managed for PC (1 Female and 2 Male; mean age: 52.33, range: 47–62) at our Academic Department of General Surgery. We retrospectively reviewed clinical presentation of PC, along with diagnosis, management and follow up.
Results
Case 1: a 62-year-old gentleman with a background of nephrolithiasis, constipation, thalassaemia minor and non-insulin-dependent diabetes was admitted with an asymptomatic, left-sided large neck mass, raised serum calcium (2,92 mmol/L), elevated PTH (391.7 pg/ml) and polyuria. Doppler ultrasound scan showed a large cystic mass contiguous to the left lobe of a multinodular thyroid and to the oesophagus, partially retrosternal. CT confirmed a 9-cm lesion extending into the upper mediastinum. FNAC demonstrated a PT neoplasm. The mass was excised in bloc with total thyroidectomy and central neck dissection (CND). Microsurgical technique (loupe magnification 3
×
) was used to dissect the mass off the strap muscles, left recurrent laryngeal nerve (RLN) and oesophagus, as the tumour was adherent by proximity to these structures. Pathology confirmed PC with no thyroid or lymph node involvement.
A hereditary disease was suspected when the patient's brother was diagnosed with PC in the interim, and a germline mutation (c.1252 G > A) was found in the MEN1 gene of the patient and of two relatives. The patient was assessed for lesions related to MEN 1. Magnetic Resonance Imaging (MRI) of the head did not document lesions in the pituitary. Pancreatic lesions suggesting MEN1-related neuroendocrine tumours were identified on endoscopic US, while CT scan detected a non-functional adrenal nodule. At 5-year follow-up, the patient shows normal calcemia and is free from recurrence. Features of this case were presented in a previous publication [
17
].
Case 2: a 48-year-old woman with a background history of essential hypertension was referred to our Department for thyroid disease. Clinical examination was otherwise normal. TSH (thyroid-stimulating hormone) was 5.67 mUI/L (range 0.36–3.74 mUI/L), while FT4 (free triiodothyronine T4), FT3 (free triiodothyronine T3), serum calcium, phosphorous, calcitonin, and thyroglobulin levels were normal. PTH was not investigated. Neck US scan showed a 33x15x17 mm solid nodule with fluid areas located at the posterior margin of the right lobe of a normally sized thyroid; no adenopathy was found. FNA supported a working diagnosis of follicular thyroid lesion, and total thyroidectomy was scheduled. During surgery a solid grayish mass of 2.2 × 1.6 × 1 cm was found behind the middle third of the right lobe of the thyroid, in close contact with trachea and the oesophageal wall, and was carefully dissected off by microsurgical technique. No distinct superior PT gland could be found. The patient was uneventfully discharged 2 days after surgery. Pathology revealed intrathyroidal PC of the right thyroid lobe with a cystic component, fibrosis, endocapillary proliferation but no invasion of the thyroid gland. The 30-month follow-up did not show residual-recurrent disease.
Case 3: a 47 year-old man, admitted as a medical emergency for renal failure, hypercalcaemic crisis (5.33 mmol/L, n.v. = 2.25–2.67 mmol/L) and symptomatic nephrolithiasis, was referred to our Department for PHPT. Physical examination was unremarkable. Aside severe renal failure and hypercalcemia, laboratory tests showed hypophosphataemia (0.55 mg/dL, n.v. = 2.5–4.50 mg/dL) and high PTH (919.0 p/mL; n.v.: 6.4–52 pg/mL). Excreted 24-h urinary calcium was 494 mg/24 h (n.v. = 42–353 mg/24 h), phosphate excretion was normal and there was proteinuria. US scan identified a hypoechoic 17 × 16 mm nodule on the posterior margin of the inferior right lobe suggestive for parathyroid adenoma (PA). Technetium-99 m-sestamibi (MIBI) dual-phase scan documented increased uptake at the level of the right inferior PT gland. The patient underwent right inferior minimally invasive video-assisted parathyroidectomy. During surgery a 4 × 2.5 × 2 cm solid brown mass was found, and after resection intraoperative PTH dropped by more than 50%. Postoperative course was uneventful, with decreasing PTH levels, and the patient was discharged on the second postoperative day. Pathology revealed a PC with microscopic aspects of vascular invasion and surrounding adipose tissue infiltration. The patient was scheduled for completion surgery while showing increasing PTH levels (429.0 pg/mL n.v.: 6.4–52 pg/mL). Hemythyroidectomy and CND were performed, with uneventful recovery and discharge on postoperative day 3. Final pathology showed no thyroid or lymph nodes involvement.
Discussion
Conclusion
Despite its rarity, in the presence of HPT showing severe hypercalcemia, large cervical mass and concomitant renal and skeletal disease, PC should be suspected. Complete surgical resection at the earliest possible time is the optimal treatment, and patients with a suspicion of PC should be considered for referral to a Centre dedicated to PT surgery, to improve outcomes and offer the best chance of cure. Further multi-centric studies are needed to standardize surgical management of PC with the aim to improve results.
Acknowledgements
Not applicable.
Funding
All Authors have no source of funding.
Availability of data and materials
Original population and Patients' data supporting this study are available upon request from the Department of Biomedical Sciences and Human Oncology – Unit of Endocrine, Digestive and Emergency Surgery.
Ethics approval and consent to participate
This research has been performed in accordance with the declaration of Helsinki. The study was approved by the Institutional Review Board of the University Medical School of Bari; all patients gave a written consent to the use of data for research.
Consent for publication
Patient consent for research use of data was obtained for each case presented. All identification data of the patients were removed from medical records prior to data collection. De-identified data were used, and it was not possible to trace any of the data to the actual individual. Only information required for coherent description of cases was extracted. Data in electronic format were accessible to authorized personnel only. No intervention other than recording, counting and analysing of data took place.
Competing interests
The authors declare that they have no competing interests.
Publisher's Note
Springer Nature remains neutral with regard to jurisdictional claims in published maps and institutional affiliations.
Open Access
This article is distributed under the terms of the Creative Commons Attribution 4.0 International License (
http://​creativecommons.​org/​licenses/​by/​4.​0/​
), which permits unrestricted use, distribution, and reproduction in any medium, provided you give appropriate credit to the original author(s) and the source, provide a link to the Creative Commons license, and indicate if changes were made. The Creative Commons Public Domain Dedication waiver (
http://​creativecommons.​org/​publicdomain/​zero/​1.​0/​
) applies to the data made available in this article, unless otherwise stated.