01.12.2012 | Research | Ausgabe 1/2012 Open Access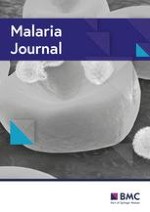 Deaths due to
Plasmodium knowlesi

malaria in Sabah, Malaysia: association with reporting as

Plasmodium malariae

and delayed parenteral artesunate
Zeitschrift:
Autoren:

Giri S Rajahram, Bridget E Barber, Timothy William, Jayaram Menon, Nicholas M Anstey, Tsin W Yeo
Wichtige Hinweise
Competing interests
The authors declare that they have no competing interests.
Authors' contributions
GR performed the case note review with assistance from TW and BB. TW and JM facilitated the case review. GR, BB, NA and TY wrote the paper. All authors read and approved the final manuscript.
Abstract
Background
The simian parasite
Plasmodium knowlesi
is recognized as a common cause of severe and fatal human malaria in Sabah, Malaysia, but is morphologically indistinguishable from and still commonly reported as
Plasmodium malariae,
despite the paucity of this species in Sabah. Since December 2008 Sabah Department of Health has recommended intravenous artesunate and referral to a general hospital for all severe malaria cases of any species. This paper reviews all malaria deaths in Sabah subsequent to the introduction of these measures. Reporting of malaria deaths in Malaysia is mandatory.
Methods
Details of reported malaria deaths during 2010-2011 were reviewed to determine the proportion of each
Plasmodium
species. Demographics, clinical presentations and management of severe malaria caused by each species were compared.
Results
Fourteen malaria deaths were reported, comprising seven
Plasmodium falciparum
, six
P. knowlesi
and one
Plasmodium vivax
(all PCR-confirmed). Of the six
P. knowlesi
deaths, five were attributable to knowlesi malaria and one was attributable to
P. knowlesi
-associated enterobacter sepsis. Patients with directly attributable
P. knowlesi
deaths (N = 5) were older than those with
P. falciparum
(median age 51 [IQR 50-65]
vs
22 [IQR 9-55] years, p = 0.06). Complications in fatal
P. knowlesi
included respiratory distress (N = 5, 100%), hypotension (N = 4, 80%), and renal failure (N = 4, 80%). All patients with
P. knowlesi
were reported as
P. malariae
by microscopy
.
Only two of five patients with severe knowlesi malaria on presentation received immediate parenteral anti-malarial treatment. The patient with
P. vivax
-associated severe illness did not receive parenteral treatment. In contrast six of seven patients with severe falciparum malaria received immediate parenteral treatment.
Conclusion
Plasmodium knowlesi
was responsible, either directly or through gram-negative bacteraemia, for almost half of malaria deaths in Sabah. Patients with severe non-falciparum malaria were less likely to receive immediate parenteral therapy. This highlights the need in Sabah for microscopically diagnosed
P. malariae
to be reported as
P. knowlesi
to improve recognition and management of this potentially fatal species. Clinicians need to be better informed of the potential for severe and fatal malaria from non-falciparum species, and the need to treat all severe malaria with immediate intravenous artesunate.