01.12.2017 | Research | Ausgabe 1/2017 Open Access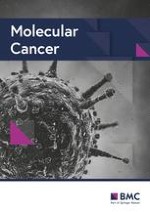 Decreased expression of miR-939 contributes to chemoresistance and metastasis of gastric cancer via dysregulation of SLC34A2 and Raf/MEK/ERK pathway
Zeitschrift:
Autoren:

Jia-Xing Zhang, Yi Xu, Ying Gao, Cui Chen, Zhou-San Zheng, Miao Yun, Hui-Wen Weng, Dan Xie, Sheng Ye
Wichtige Hinweise
Electronic supplementary material
The online version of this article (doi:
10.​1186/​s12943-017-0586-y
) contains supplementary material, which is available to authorized users.
Abbreviations
FFPE
Formalin-fixed paraffin-embedded
ROC
Receiver operating characteristic
Background
Gastric cancer (GC) is one of the most common causes of cancer-related deaths worldwide [
1
]. At present, surgical resection and palliative chemotherapy are the backbone treatment modalities for early staged and advanced staged GC patients, respectively [
2
]. Although tremendous progress has been made in therapeutic strategies, the prognosis for GC patients using existing treatments remains unsatisfactory. The development of chemoresistance and metastasis are the leading causes of death for GC patients, however, the molecular mechanisms involved remain unclear [
3
–
5
]. Therefore, a better understanding of these molecular events will undoubtedly facilitate our ability to the development of novel therapeutic targets and strategies for GC treatment.
MicroRNAs (miRNAs) are a class of small-regulatory RNA molecules that repress protein translation through binding to the 3'-untranlated region (UTR) of their target mRNA [
6
]. Aberrant expression of miRNAs has been reported in various types of cancers [
7
,
8
]. In GC, miR-192, miR-215, miR-25 are reported to be upregulated, whereas miR-375, miR-101 are downregulated [
9
–
12
]. Nevertheless, the role of miRNAs in the regulation of GC-associated genes, and thus the role of miRNAs in the pathogenesis of GC, remains elusive.
Recently, microarray profiling analysis revealed that a number of miRNAs were dysregulated in human GC samples compared with normal tissues, including miR-939 [
13
]. However, the clinical significance and biological role of miR-939 in GC is still not known. Therefore, we devised our present study to find out the mechanism of miR-939 action and its potential clinical application in GC. Interestingly, we found that decreased miR-939 expression is closely related with poor clinical outcome of GC patients. Our data showed that miR-939 inhibits GC metastasis and enhances the sensitivity of GC cells to 5-fluorouracil (5-Fu) treatment. In addition, we identified that miR-939 exerts its tumor-suppressing role by targeting SLC34A2 via the inhibition of Raf-MEK-ERK signaling pathways.
Methods
Cell lines
Gastric cancer cell lines (AGS, BGC-823, HGC-27, MGC-803, MNK-45, and SGC-7901), and one immortalized human gastric epithelial mucosa cell line (GES-1) were grown in DMEM medium supplemented with 10% fetal bovine serum.
Samples and patients
For the use of clinical materials for research purposes, prior approval was obtained form the Committees for Ethical Review of Research at Sun Yat-Sen University (Guangzhou, China). Formalin-fixed paraffin-embedded (FFPE) tumorous and adjacent non-tumorous tissues samples from 112 GC patients, who underwent surgical resection between January 2010 and December 2011, were randomly selected from the archives of the Department of Pathology of Sun Yat-Sen University Cancer Center (Guangzhou, China). All the patients enrolled were diagnosed with stage I-III GC disease during surgery resection, and received postoperative adjuvant 5-Fu-based chemotherapy: SOX regimen (Tegafur plus oxaliplatin), XELOX regimen (capecitabine plus oxaliplatin), Tegafur, or capecitabine. The clinicopathological characteristics of the patients in this cohort are summarized in Additional file
1
: Table S1. The patients were followed every 3 months for the first year and then every 6 months for the next 2 years, and finally annually, thereafter. The diagnostic examinations consisted of CT, MRI, abdominal ultrasonography and bone scan when necessary to detect recurrence and/or metastasis. During follow-up period, 48 patients experienced tumor recurrence or metastasis, and 38 deaths due to cancer-related diseases.
In addition, we obtained another independent cohort of 110 patients, who were diagnosed with stage IV GC disease between January 2008 and December 2013. The mean age at diagnosis was 56 years (range, 21–81 years); 72 patients were male. The patients in this cohort were administrated with fluorouracil-based regimen (SOX or XELOX) as first-line palliative chemotherapy. The response of chemotherapy was assessed based on CT examination every 6 weeks during therapy and at the end of treatment according to the following criteria: complete response (CR) as defined by the complete resolution of all assessable lesions; partial response (PR) as defined by a reduction by 50% or more of the sum of the lesions and no progression of assessable lesions; or no change (NC) as indicated by a reduction <50% or increase <25% in tumor size. The CR, PR or NC conditions had to last for at least 4 weeks without appearance of new lesions. Otherwise the response will be counted as progressive disease (PD) as defined by an increase of 25% in tumor size or appearance of new lesions.
The clinical and clinicopathological classification and stage were determined according to the American Joint Committee on Cancer (AJCC) criteria. Patients who had a single primary lesion without neoadjuvant therapy before operation were included in the study. Other criteria for inclusion were as follows: age >18 years; histologically confirmed gastric cancer with at least one measurable lesion as defined by the Response Evaluation Criteria in Solid Tumors; Eastern Cooperative Oncology Group performance status (ECOG PS) of B2, and life expectancy >3 months.
For both XELOX and SOX regimen, oxaliplatin (130 mg/m2) was diluted in 500 mL of 5% dextrose and infused intravenously over 2 h on day 1. Oral administration of capecitabine (1000 mg/m2) and Tegafur (body surface area, BSA < 1.25: 40 mg; BSA 1.25–1.5: 50 mg; BSA > 1.5: 60 mg) was followed twice a day from days 2 to 15 in XELOX and SOX regimen, respectively. Treatment was continued until 6–8 cycles of XELOX, SOX, Tegafur, or capecitabine had been completed, disease progression, unacceptable toxicity, patient withdrawal, or physician's decision.
RNA isolation and quantitative real-time PCR
Total RNA was extracted from cultured cells and tissue specimens using TRIzol (Invitrogen, Calsbad, CA). Real-time PCR was carried out with SYBR Green SuperMix (Roche, Basel, Switzerland) using ABI7900HT Fast Real- Time PCR system (Applied Biosystems, Foster City, CA). Glyceraldehyde-3-phosphate dehydrogenase (GAPDH) or U6 was used as an internal control. An optimal cutoff value for "high" or "low" miR-939 expression was identified based on the median value of the cohorts of patients tested. TaqMan probes were used to detect miR-939, SLC34A2, U6, and GAPDH (GeneCopoeia, Guangzhou, China).
MTT assay
Cell viability was measured by a 3-(4, 5-dimethylthiazol-2-yl)-2, 5-diphenyl tetrazolium bromide (MTT) assay (Sigma, St, Louis, Missouri, USA). Briefly, cells were seeded in 96-well plates and treated with various concentration of 5-Fu for each well. The absorbance was measured at 570 nm, with 655 nm as the reference wavelength. All experiments were carried out in triplicates.
Colony formation assay
Cells were placed in six-well plate (500 cells/plate) and cultured for 2 weeks. Colonies were fixed with methanol for 5 min, and stained with 0.1% crystal violet for 30 s.
Flow cytometric analysis of apoptosis
Annexin V-APC and propidium iodide (PI) stains were carried out to assess the percentage of cells undergoing apoptosis. The apoptosis assay was conducted using the protocol supplied by the manufacturer (BioVision Inc.). Each sample was then subjected to analyses by flow cytometry (Beckman Coulter, cytomics FC 500, CA).
Wound-healing, migration and invasion assays
For cell would-healing assay, the movement of cells was measured in a scraped, acellular area made by a 200 ml pipette tube, and the spread of wound closure was observed after 24 h. For migration assay, 40,000 cells were added to the upper chamber in serum free media and migration at 37 °C towards 10% FBS containing growth media was determined either after 24 h. Cells migrated through the membrane were fixed, stained and counted under light microscope. For invasion assays, 1 × 105 cells were seeded into a Matrigel invasion chamber (BD Biosciences, NJ, USA) in a 24-well culture plate. After 24 h, the invasive cells located on the lower side of the chamber were fixed in methanal, stained with crystal violet, and followed by counting under a light microscope.
Western blot (WB) assay
Equal amounts of cell protein lysates were resolved by SDS-polyacrylamidegel electrophoresis (PAGE) and electrotransferred on a polyvinylidene difluoride (PVDF) membrane (Pall Corp., Port Washington, NY) according to standard methods. The following primary antibodies were used: anti-SLC34A2 (Abcam, Cambridge, UK); anti-GAPDH, anti-AKT, anti-p-AKT, anti-ERK, anti-p-ERK, anti-c-Raf (Cell signaling Technology, Beverly, MA).
Immunohistochemical (IHC) Staining
In brief, tissue sections were de-waxed and incubated in retrieval buffer solution for antigen recovery. We used the Dako Real Envision Kit (K5007, Dako) to visualize protein expression after staining with primary antibody. Staining intensity was scored manually by two independent experienced pathologists as 0 = no staining, 1 = weak staining, 2 = moderate staining, and 3 = strong staining. Tumor cells in five fields were randomly selected and scored based on the percentage of positively stained cells (0–100%). The final IHC score was calculated by multiplying the intensity score with the percentage of positive cells (range from 0 to 3). An optimal cutoff value was identified based on the median value of the cohorts of patients test.
Vector construction and retroviral infection
The miR-939 expression vector (HmiR0533-MR03), the control vector for miR-939 (CmiR0001-MR03), the coding sequences of SLC34A2 expression vector (EX-A3175-Lv105), and the control vector for SLC34A2 (EX-NEG-Lv105) were purchased from the GeneCopoeia Company (Guangzhou, China). Cells transfected with empty vector were used as controls. The vectors were packaged using the ViraPower Mix (Genecopoeia, Guangzhou, China) in 293FT cells. After culturing for 48 h, the lentiviral particles in the supernatant were harvested and filtered by centrifugation at 500 
g
for 10 min, and then transfected into the GC cells.
Mimic, antagomir, plasmids and transient transfection
miR-939 mimic and antagomir-939 were purchased from GeneCopoeia Company (GuangZhou, China). Oligonucleotide transfection was performed with Lipofectamine 2000 reagent (Invitrogen, Carlsbad, CA), according to the manufacturer's instructions.
Luciferase reporter assay
The 3′ UTR of SLC34A2 were amplified and cloned downstream to the luciferase gene in a modified pGL3 control vector. The firefly luciferase construct was cotransfected with a control Renilla luciferase vector into GC cells in the presence of miR-939 mimic, antagomir-939, or miR-control. A dual luciferase assay (Promega) was performed 48 h after transfection. The experiments were performed independently in triplicate.
Animal experiments
For in vivo metastasis assays,six Four-week-old BALB/c nude mice in each experimental group were injected with SGC-7901/control or SGC-7901/miR-939 cells, respectively. Briefly, 2 × 105 GC cells in 30 μl of 33% Matrigel (Becton Dickinson, NJ, USA) were injected intravenously through the tail vein. The experiment was terminated 28 days after tumor-cell inoculation, and metastatic nodules in each lung were counted.
For xenograft growth of orthotopic animal model assay, the mice were randomly divided into four groups (
n
 = 6): SGC-7901/control, SGC-7901/miR-939, SGC-7901/control + 5-Fu, SGC-7901/miR-939 + 5-Fu, and equal amounts of SGC-7901/miR-939 or SGC-7901/control cells (3 × 10
6
) were injected subcutanesouly into the flank of each mouse. For chemotherapy treatment group: 5-Fu was administered at a dose of 5 mg/kg at 10 am twice a week for 3 week; for control groups, DMSO alone (100% DMSO, 40 lL, intraperitoneal injection every 2 days) was delivered to the mice. Treatment began on day 7, when the tumors were measurable. The tumors were examined twice weekly, length and width measurements were obtained with calipers, and the tumor volumes were calculated. On day 25, the animals were euthanized and the tumors were excised and weighed.
All the procedures were carried out in accordance with the guidelines of the Laboratory Animal Ethics Committee of Sun Yat-Sen University.
Statistical analysis
Statistical analysis was performed using a SPSS software package (SPSS Standard version 16.0, SPSS Inc). Receiver operating characteristic (ROC) curve analysis was conducted to evaluate the predictive value of miR-939 expression in predicting GC chemotherapy response. Comparisons between groups for statistical significance were performed with a 2-tailed Student's
t
test. Bivariate correlations between study variables were calculated by Pearson's correlation coefficients. Differences between variables were assessed by the Chi-square test or Fisher's exact test. For survival analysis, we analyzed all GC patients by Kaplane-Meier analysis. A log rank test was used to compare different survival curves. Multivariate survival analysis was performed on all parameters that were found to be significant in univariate analysis using the Cox regression model.
P
values <0.05 were considered significant.
Results
Discussion
In this study, we found that miR-939 was indeed downregulated in GC tissues. Importantly, we reported, for the first time, that levels of miR-939 were inversely correlated with local relapse, distant metastasis and chemoresistance in GC patients. In addition, a series of in vitro and in vivo experiments demonstrated that miR-939 diminishes GC cell chemoresistance and metastatic ability by targeting SLC34A2 expression, with consequent inhibition of the Raf-MEK-ERK signaling pathway.
Conclusion
In summary, we provide comprehensive evidence of the inhibitory effect of miR-939 on GC metastasis, and suggest a critical role of miR-939 in enhancing GC cell's sensitivities to 5-Fu based chemotherapy. Our findings strongly suggest that miR-939 could be used for the development of novel combinatorial therapy strategies aimed at overcoming chemo-resistance and compromising metastasis in GC.
Acknowledgements
We would like to thank Dr. Shu Xu for her valuable comments and extensive edit for the manuscript.
Funding
This work was supported by the Natural Science Foundation of China (No.81401991, No. 81225018 and No.81572359).
Authors' contributions
SY and DX conceived and designed the experiments. JXZ and YX participated in the experiments and drafted the manuscript. YG, CC and HWW contributed to the sample collection and interpretation the data. MY and ZSZ performed the statistical analysis. SY and DX revised the manuscript. All authors read and approved the final manuscript.
Competing interests
The authors declare that they have no competing interests.
Consent for publication
All data during the current study is available from the corresponding author on reasonable request.
Ethics approval and consent to participate
The research protocol was reviewed and approved by the Ethical Committee and Institutional Review Board of the Sun Ya-Sen University. No informed consent (written or verbal) was obtained for use of retrospective tissue samples from the patients within this study, most of whom were deceased, since this was not deemed necessary by the Ethics Committee, who waived the need for consent. All samples were anonymous.
Open Access
This article is distributed under the terms of the Creative Commons Attribution 4.0 International License (
http://​creativecommons.​org/​licenses/​by/​4.​0/​
), which permits unrestricted use, distribution, and reproduction in any medium, provided you give appropriate credit to the original author(s) and the source, provide a link to the Creative Commons license, and indicate if changes were made. The Creative Commons Public Domain Dedication waiver (
http://​creativecommons.​org/​publicdomain/​zero/​1.​0/​
) applies to the data made available in this article, unless otherwise stated.