01.12.2017 | Research article | Ausgabe 1/2017 Open Access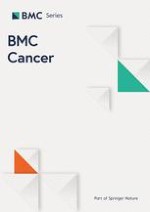 Differential expression of estrogen receptor subtypes and variants in ovarian cancer: effects on cell invasion, proliferation and prognosis
Zeitschrift:
Autoren:

Karen K. L. Chan, Michelle K. Y. Siu, Yu-xin Jiang, Jing-jing Wang, Yan Wang, Thomas H. Y. Leung, Stephanie S. Liu, Annie N. Y. Cheung, Hextan Y. S. Ngan
Wichtige Hinweise
Electronic supplementary material
The online version of this article (
10.​1186/​s12885-017-3601-1
) contains supplementary material, which is available to authorized users.
Abbreviations
SERMs
Selective estrogen receptor modulators
Background
Methods
Clinical samples
One hundred and-six paraffin-embedded tissue blocks of ovarian cancer were obtained from Department of Pathology, University of Hong Kong, Queen Mary Hospital. All patients underwent surgery with the age range between 32 to 78 years (mean 50.2 years) and the follow-up period range between five to 209 months (mean 62 months). Seventy-six patients also received platinum/paclitaxel chemotherapy. To confirm diagnosis, all samples were histologically reviewed.
Cell lines and subcellular protein extraction
Immortalized ovarian epithelial cell lines (HOSE 6–3, HOSE 11–12 and HOSE 17–1) and ovarian cancer cell lines (SKOV-3, OVCAR-3, OVCA 420, OVCA 429, OVCA 433, ES2, TOV-21G and TOV112D) were cultured as previously described [
24
,
25
]. SKOV-3, OVCAR-3, ES2, TOV-21G and TOV112D were purchased from American Type Culture Collection (ATCC; Manassas, VA). Others were given by Prof. S.W. Tsao (Department of Anatomy, University of Hong Kong). Nuclear and cytoplasmic extracts from SKOV-3 cells were isolated as previously described [
24
,
25
].
Plasmids, transfection of ERβ2 and ERβ5, treatment with FAK inhibitor
Full-length sequences of
ERβ2
and
ERβ5
were assembled from synthetic oligonucleotides by GeneArt Gene Syntheses and cloned into pcDNA3.1 V5-His A (Life technologies, Waltham, MA). The final constructs were verified by sequencing and transfected along with the control vector into ES-2, OVCA420 and TOV-21G cells using Lipofectamine 3000 (Life technologies) and then selected with G418 (800 μg/ml) (Life technologies) [
24
,
25
]. For FAK inhibitor treatment, ERβ5 overexpressing cells were plated 24 h before treating with the FAK inhibitor 14 (5 μM; Santa Cruz, Santa Cruz, CA) or vehicle (water). After 24 h, cells were harvested for immunoblotting.
Immunohistochemistry
Immunohistochemistry was done on formalin-fixed, paraffin-embedded sections using EnVision + Dual Link System (K4061; Dako, Carpinteria, CA) as previously described [
24
,
25
]. Antigen retrieval was done by heating in a pressure cooker with 1 mM EDTA (pH 8.0) (for ERα, ERβ1 and ERβ2) or citrate buffer (pH 6.0) (for ERβ5). Antigen were detected with antibodies against ERα, ERβ1, ERβ2 and ERβ5 (Additional file
1
: Table S1). All four antibodies have been used/validated for immunohistochemical staining in paraffin-embedded tissue sections [
14
,
22
]. Both the intensity (0 = negative, 1 = faint, 2 = moderate, and 3 = strong) and percentage (0 = <5%), 1 = 5%–25%, 2 = 26%–50%, 3 = 51%–75% and 4 = >75%) of stained epithelial cells were assessed semiquantitatively as previously described [
24
,
25
]. A composite "Histoscore" was determined by multiplying the staining intensity by the percentage of stained cells with 12 as the maximum score. The "histoscores" cut off at mean was used to define high and low expression levels of target genes.
Immunoblotting
Wound healing assay
ES-2 cells were seeded in six-well plates for 24 h. A wound was made by a sterile pipette tip. Photographs were taken at time 0 and 7 h to observe the closure of the wound as previously described [
24
].
In vitro migration and invasion assays
Cells (1.25 × 10
5
) were plated on the upper side of a Transwell chamber (Corning, Tewksbury, MA) coated with or without Matrigel and then migrated or invaded through the membrane as previously described [
24
,
25
]. After 7 (ES-2), 16 h (TOV-21G) or 24 h (OVCA420), cells on the upper compartment were removed. Migrated or invaded cells on the lower compartment were fixed, stained, and counted. For FAK inhibitor treatment, cells plated on the upper compartment for 6 h were treated with FAK inhibitor 14 (5 μM) or vehicle [
24
,
25
].
Cell count method, XTT assay and focus formation assay
For cell count method, cells (3 × 10
4
) were cultured in growth medium in 12-well or 6-well plates or T150 culture flasks as previously described [
24
]. After 24 h, cells were treated with 5 μM FAK inhibitor 14 or vehicle. Luna™ automated cell counter (Logos Biosystems, Annandale, VA) was used to count cell number at days 1 (12-well culture plates), 4 (6-well culture plates), 8 and 11 (T150 culture flasks) for ES-2 and days 1, 5, 9 and 11 for OVCA 420. For XTT assay (Roche), cells (2000 cells/well) were cultured in 96-well plates. 50 μl/well XTT labeling mixture was added at day 5. After 4 h incubation at 37 °C, cell viability was evaluated by assessing the absorbance at 492 nm.For focus formation assay, cells (2500) were seeded in 6-well culture plates and maintained in growth medium with fresh medium changed every 3 days. At day 9, cells were stained with 1% crystal violet (Sigma-Alrich). Numbers of foci were counted.
Statistical analysis
SPSS 20 for Windows was used (SPSS Inc., Chicago, IL). Data between two groups was compared using Mann-Whitney test. Data among multiple groups was compared using Kruskal-Wallis rank test.For survival analysis, Kaplan–Meier analysis and log-rank test were done. For multivariate survival analysis, Cox regression analysis was performed. For correlation analysis, Spearman's rho test was used.
P
values < 0.05 were considered statistically significant.
Results
Discussion
Conclusions
There are now increasing evidence to suggest that targeting individual ER subtypes by new SERMs with different ERα/ERβ1 binding affinities can maximize the hormonal response [
3
,
10
,
42
]. The differential ERα and ERβ1 expression in ovarian cancer and in different histological types as shown in the present study may help to explain the poor response rate of tamoxifen (10–15%) in ovarian cancer because tamoxifen binds to both ERα and ERβ1 and most clinical studies using tamoxifen therapy included patients with all histotypes [
43
,
44
]. Moreover, our findings showed ERβ5 plays an important role in ovarian tumorigenesis by regulating cell migration, invasion and proliferation via FAK/c-Src activation. This study also suggests nERβ5 as a potential prognostic marker and therapeutic target in ovarian cancer.
Acknowledgements
Not applicable.
Funding
The work was supported by the Hong Kong Research Grants Council General Research Fund (HKU761413) and the Wong Check She Charitable Foundation and the Research Fund from the Department of Obstetrics and Gynaecology, University of Hong Kong. The funders had no role in the study design, data collection and analysis, decision to publish, or preparation of the manuscript.
Availability of data and materials
The datasets used and/or analysed during the current study are available from the corresponding author on reasonable request.
Ethics approval and consent to participate
This study was approved by Institutional Review Board of the University of Hong Kong/Hospital Authority Hong Kong West Cluster (HKU/HA HKW IRB). Written informed consent was received from all patients.
Consent for publication
Not applicable.
Competing interests
The authors declare that they have no competing interests.
Publisher's Note
Springer Nature remains neutral with regard to jurisdictional claims in published maps and institutional affiliations.
Open Access
This article is distributed under the terms of the Creative Commons Attribution 4.0 International License (
http://​creativecommons.​org/​licenses/​by/​4.​0/​
), which permits unrestricted use, distribution, and reproduction in any medium, provided you give appropriate credit to the original author(s) and the source, provide a link to the Creative Commons license, and indicate if changes were made. The Creative Commons Public Domain Dedication waiver (
http://​creativecommons.​org/​publicdomain/​zero/​1.​0/​
) applies to the data made available in this article, unless otherwise stated.