01.12.2018 | Research | Ausgabe 1/2018 Open Access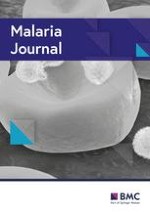 Differential plasma microvesicle and brain profiles of microRNA in experimental cerebral malaria
Zeitschrift:
Autoren:

Amy Cohen, Anna Zinger, Natalia Tiberti, Georges E. R. Grau, Valery Combes
Wichtige Hinweise
Electronic supplementary material
Georges E. R. Grau and Valery Combes are shared authors
Abstract
Background
Cerebral malaria (CM) is a fatal complication of
Plasmodium
infection, mostly affecting children under the age of five in the sub-Saharan African region. CM pathogenesis remains incompletely understood, although sequestered infected red blood cells, inflammatory cells aggregating in the cerebral blood vessels, and the microvesicles (MV) that they release in the circulation, have been implicated. Plasma MV numbers increase in CM patients and in the murine model, where blocking their release, genetically or pharmacologically, protects against brain pathology, suggesting a role of MV in CM neuropathogenesis. In this work, the microRNA (miRNA) cargo of MV is defined for the first time during experimental CM with the overarching hypothesis that this characterization could help understand CM pathogenesis.
Results
The change in abundance of miRNA was studied following infection of CBA mice with
Plasmodium berghei
ANKA strain (causing experimental CM), and
Plasmodium yoelii
, which causes severe malaria without cerebral complications, termed non-CM (NCM). miRNA expression was analyzed using microarrays to compare MV from healthy (NI) and CM mice, yielding several miRNA of interest. The differential expression profiles of these selected miRNA (miR-146a, miR-150, miR-193b, miR-205, miR-215, miR-467a, and miR-486) were analyzed in mouse MV, MV-free plasma, and brain tissue by quantitative reverse transcription PCR (RT-qPCR). Two miRNA—miR-146a and miR-193b—were confirmed as differentially abundant in MV from CM mice, compared with NCM and NI mice. These miRNA have been shown to play various roles in inflammation, and their dysregulation during CM may be critical for triggering the neurological syndrome via regulation of their potential downstream targets.
Conclusions
These data suggest that, in the mouse model at least, miRNA may have a regulatory role in the pathogenesis of severe malaria.