01.12.2017 | Research article | Ausgabe 1/2017 Open Access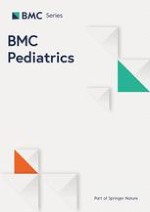 Does sevoflurane add to outpatient procedural sedation in children? A randomised clinical trial
Zeitschrift:
Autoren:

Hugo Sérgio de Oliveira Gomes, Heloisa de Sousa Gomes, Joji Sado-Filho, Luciane Rezende Costa, Paulo Sucasas Costa
Abstract
Background
There is little evidence concerning the effect of sevoflurane in outpatient procedural sedation, especially in children. We hypothesised that the addition of sevoflurane to a sedation regimen improves children's behaviour with minimal adverse events.
Methods
This is a randomised, triple-blind clinical trial conducted on an outpatient basis. Participants were 27 healthy children aged 4 to 6 years, who previously refused dental treatment with non-pharmacologic methods. All participants received oral midazolam (0.5 mg/kg, maximum 20 mg) and oral ketamine (3 mg/kg, maximum 50 mg) and, in addition: Group MK – 100% oxygen; Group MKS – inhalational sevoflurane at a sedative dose (final expired concentration between 0.3 and 0.4%). Dental appointments were video recorded for assessment of the children's sleep patterns, crying, movements, and overall behaviour during the procedure with the Houpt scale. Intra- and post-operative adverse events were systematically reported. Data were analysed by bivariate analyses in the IBM SPSS v. 19, at a significance level of 5%.
Results
MK (
n =
 13) and MKS (
n =
 14) did not differ regarding the Houpt scores (
P >
 0.05), but 53.8% of children in the MK group showed hysterical and continuous crying at the time of the local anaesthesia injection, compared to 7.1% of children in the MKS group (
P =
 0.01; phi = 0.5). There was a trend toward less crying and movement over time during the dental appointment in the MKS group (
P =
 0.48). Minor adverse events were observed in 10 MK children and 4 MKS children (
P =
 0.01).
Conclusions
The addition of sevoflurane to oral midazolam-ketamine improved the children's crying behaviour during local anaesthetic administration, and did not increase the occurrence of adverse events.
Trial registration
Clinical Trials
NCT02284204
. Registered 5 October 2014.