19.09.2019 | Original Research | Ausgabe 6/2019 Open Access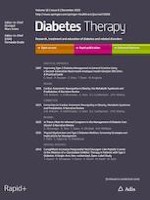 Effect of Individualized Dietary Intervention on Oxidative Stress in Patients with Type 2 Diabetes Complicated by Tuberculosis in Xinjiang, China
Zeitschrift:
Autoren:

Liyun He, Guoming Zhang, Meng Wei, Yanjun Zhao, Weixing Chen, Qiaojun Peng, Guiyun Meng
Wichtige Hinweise
Liyun He and Guoming Zhang are the co-first authors.
Enhanced Digital Features
Abstract
Introduction
This study aimed to examine the effect of individual dietary intervention on nutrition and oxidative stress of patients with type 2 diabetes mellitus (T2DM) complicated by pulmonary tuberculosis (PTB) in Xinjiang.
Methods
A total of 164 patients with T2DM and PTB from January 2018 to December 2018 in the Chest Hospital of Xinjiang Uyghur Autonomous Region were included. According to the random number table method, the patients were divided into an experimental group (
n
 = 82) and control group (
n
 = 82). The original treatments of PTB and T2DM were maintained. The control group was treated with a self-controlled diet, while the experimental group was treated with an individual quantitative dietary intervention. All patients included in our study were closely followed up for 3 months and the serum levels of variables related to nutrition, oxidative stress, and blood glucose were measured to compare each patient's nutritional and oxidative stress after the intervention. Proportions of patients with sputum testing positive for bacteria before and after the intervention were also recorded and compared between the two groups.
Results
There were no significant differences between the two groups with regard to age, sex, labor intensity, marital status, course and treatment of diabetes, and proportion of patients with sputum positive for bacteria before the intervention (
P
 > 0.05). There were statistically significant differences between the two groups in variables to related nutrition and oxidative stress, especially SOD which was increased by 13.2% in the experimental group and 2.5% in the control group after intervention (
P
 < 0.05). The proportion of patients with sputum positive for bacteria in the experimental group was significantly lower than that in the control group, and the difference was statistically significant (
P
 < 0.05).
Conclusion
A combination of individual quantitative dietary interventions can improve the nutritional status of patients with T2DM–PTB and adjust the oxidative stress. This method provides a theoretical basis for a reasonable diet in patients with T2DM–PTB.
Trial Registration
ChiCTR900025477 (Retrospectively registered).