04.09.2015 | Original Contributions | Ausgabe 5/2016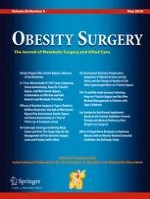 Efficacy of Bariatric Surgery in Type 2 Diabetes Mellitus Remission: the Role of Mini Gastric Bypass/One Anastomosis Gastric Bypass and Sleeve Gastrectomy at 1 Year of Follow-up. A European survey
Zeitschrift:
Autoren:

Mario Musella, Jan Apers, Karl Rheinwalt, Rui Ribeiro, Emilio Manno, Francesco Greco, Michal Čierny, Marco Milone, Carla Di Stefano, Sahin Guler, Isa Mareike Van Lessen, Anabela Guerra, Mauro Natale Maglio, Riccardo Bonfanti, Radoslava Novotna, Guido Coretti, Luigi Piazza
Abstract
Background
A retrospective study was undertaken to define the efficacy of both mini gastric bypass or one anastomosis gastric bypass (MGB/OAGB) and sleeve gastrectomy (SG) in type 2 diabetes mellitus (T2DM) remission in morbidly obese patients (pts).
Methods
Eight European centers were involved in this survey. T2DM was preoperatively diagnosed in 313/3252 pts (9.62 %). In 175/313 patients, 55.9 % underwent MGB/OAGB, while in 138/313 patients, 44.1 % received SG between January 2006 and December 2014.
Results
Two hundred six out of 313 (63.7 %) pts reached 1 year of follow-up. The mean body mass index (BMI) for MGB/OAGB pts was 33.1 ± 6.6, and the mean BMI for SG pts was 35.9 ± 5.9 (
p
 < 0.001). Eighty-two out of 96 (85.4 %) MGB/OAGB pts vs. 67/110 (60.9 %) SG pts are in remission (
p
 < 0.001). No correlation was found in the % change vs. baseline values for hemoglobin A1c (HbA1c) and fasting plasma glucose (FPG) in relation to BMI reduction, for both MGB/OAGB or SG (ΔFPG 0.7 and ΔHbA1c 0.4 for MGB/OAGB; ΔFPG 0.7 and ΔHbA1c 0.1 for SG). At multivariate analysis, high baseline HbA1c [odds ratio (OR) = 0.623, 95 % confidence interval (CI) 0.419–0.925,
p
 = 0.01], preoperative consumption of insulin or oral antidiabetic agents (OR = 0.256, 95 % CI 0.137–0.478,
p
 = <0.001), and T2DM duration >10 years (OR = 0.752, 95 % CI 0.512–0.976,
p
 = 0.01) were negative predictors whereas MGB/OAGB resulted as a positive predictor (OR = 3.888, 95 % CI 1.654–9.143,
p
 = 0.002) of diabetes remission.
Conclusions
A significant BMI decrease and T2DM remission unrelated from weight loss were recorded for both procedures if compared to baseline values. At univariate and multivariate analyses, MGB/OAGB seems to outperform significantly SG. Four independent variables able to influence T2DM remission at 12 months have been identified.