01.12.2017 | Research article | Ausgabe 1/2017 Open Access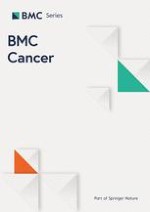 Efficacy of irreversible EGFR-TKIs for the uncommon secondary resistant
EGFR

mutations L747S, D761Y, and T854A
Zeitschrift:
Autoren:

Masato Chiba, Yosuke Togashi, Eri Bannno, Yoshihisa Kobayashi, Yu Nakamura, Hidetoshi Hayashi, Masato Terashima, Marco A. De Velasco, Kazuko Sakai, Yoshihiko Fujita, Tetsuya Mitsudomi, Kazuto Nishio
Abbreviations
1G–TKI
First-generation reversible EGFR-TKI
2G–TKI
Second-generation irreversible EGFR-TKI
3G–TKI
Third-generation irreversible EGFR-TKI
COSMIC
Catalogue of Somatic Mutations in Cancer
DMEM
Dulbecco's Modified Eagle's Medium
EGFR
Epidermal growth factor receptor
EGFR-TKI
EGFR tyrosine kinase inhibitor
IC50
50% inhibitory concentration
MTT
3,4,5-dimethyl-2H-tetrazolium bromide
NSCLC
Non-small cell lung cancer
PBS
Phosphate-buffered saline
RPMI
Roswell Park Memorial Institute
Background
Methods
Cell cultures and reagents
The murine pro-B cell line Ba/F3 (RCB0805) was provided by the RIKEN Bio Resource Center (Tsukuba, Japan). Ba/F3 cells were maintained in Roswell Park Memorial Institute (RPMI) 1640 medium (Sigma-Aldrich, St. Louis, MO)
,
supplemented with 10% fetal bovine serum (FBS) (GIBCO BRL, Grand Island, NY) and 10 ng/mL of IL-3 (Cell Signaling Technology) in a humidified atmosphere of 5% CO
2
at 37 °C. Gefitinib and erlotinib (1G–TKIs), afatinib, dacomitinib, and neratinib (2G–TKIs), and osimertinib and rociletinib (3G–TKIs) were purchased from Selleck Chemicals (Houston, TX). The structures of these agents are summarized in Fig.
1
.
×
Protein crystal structure
The crystal structure of EGFR was drawn using the PyMOL Molecular Graphics System (Version 1.7.4; Schrodinger, LLC) based on crystal structure information from PDB ID 2ITZ (
EGFR
L858R mutation in complex with gefitinib), as previously described [
24
].
Plasmid construction, viral production and stable transfectants
The methods used in the present study have been previously described [
24
]. Briefly, pBABE with a full-length wild-type
EGFR
cDNA fragment was purchased from Addgene (Cambridge, MA). pBABE constructs encoding the
EGFR
L858R mutation and the
EGFR
L858R mutation plus each of the resistant mutations (L858R + L747S, L858R + D761Y, L858R + T854A, and L858R + T790 M) were generated using the PrimeSTAR Mutagenesis Basal Kit (TaKaRa, Otsu, Japan). All primer sequences are available upon request. All the mutations were confirmed using direct sequencing experiments. The pBABE constructs were cotransfected with a pVSV-G vector (Clontech, Mountain View, CA) to generate the viral envelope in gpIRES-293 cells using the FuGENE6 transfection reagent (Roche Diagnostics, Basel, Switzerland) to produce viral particles. After 48 h of transfection, the culture medium was collected and the viral particles were concentrated by centrifugation at 15,000 ×
g
for 3 h at 4 °C. The viral pellet was then resuspended in Dulbecco's Modified Eagle's Medium (DMEM) (Sigma-Aldrich, St. Louis, MO) and was added to Ba/F3 cells. Infected Ba/F3cells were then purified using GFP
-
based fluorescence-activated cell sorting using the BD FACS Aria Cell Sorter Special Order Research Product (BD Biosciences, Franklin Lakes, NJ).
Antibodies
Rabbit antibodies specific for EGFR, phospho-EGFR, and β-actin were obtained from Cell Signaling (Beverly, MA).
Western blot analysis
Western blot analysis was performed as previously described [
39
]. Briefly, Transfected Baf/3 cells were cultured to subconfluence and were rinsed with phosphate-buffered saline (PBS) and harvested with Lysis A buffer containing 1% Triton X-100, 20 mM Tris-HCl (pH 7.0), 5 mM EDTA, 50 mM sodium chloride, 10 mM sodium pyrophosphate, 50 mM sodium fluoride, 1 mM sodium orthovanadate, and a protease inhibitor mix (Complete™; Roche Diagnostics). The total -cell lysate was subjected to SDS-PAGE and was blotted onto a polyvinylidene difluoride membranes. After blocking with 2.5% nonfat milk and 3% bovine serum albumin in a TBS buffer (pH 8.0) with 0.1% Tween-20, the membrane was probed with the primary antibody. After rinsing twice with TBS buffer, the membrane was incubated in primary and secondary antibodies, followed by visualization using an enhance chemiluminescence detection system and LAS-4000 (GE Healthcare, Buckinghamshire, UK). When the phosphorylation levels of EGFR and apoptosis-related molecules were investigated after inhibitor exposure, the samples were collected 3 and 8 h after stimulation, respectively.
IL-3 independent cell growth assay
The transfected Ba/F3 cell lines were cultured for 72 h without IL-3 and were then analyzed using a 3,4,5-dimethyl-2H-tetrazolium bromide assay (MTT; Sigma-Aldrich, St. Louis, MO). The experiment was performed in triplicate as previously described [
24
].
Growth inhibition assay in vitro
Statistical analysis
Continuous variables were analyzed using the Student
t
-test, and the results were expressed as the average and standard deviation (SD). The statistical analyses were two-tailed and were performed using Microsoft Excel (Microsoft, Redmond, WA). A
P
value of less than 0.05 was considered statistically significant.
Results
Discussion
Conclusions
Our present study showed that irreversible EGFR-TKIs, especially 3G–TKIs, can overcome the resistance induced by uncommon secondary mutations (L747S, D761Y, and T854A). Switching to 3G–TKIs might be a promising treatment strategy for acquired resistance arising from uncommon secondary mutations. To confirm these findings, both basic research and clinical research are additionally needed.
Acknowledgments
We thank Ms. Tomoko Kitayama and Ms. Ayaka Kurumatani for their technical assistance.
Funding
This study was supported in part by a Grant-in-Aid for Research Activity start-up (Y. Togashi; 15H06754). None of the funding bodies played a role in data collection, analysis, or interpretation of data, the writing of the manuscript, or the decision to submit the manuscript for publication.
Availability of data and materials
The datasets used and/or analysed during the current study are available from the corresponding author on reasonable request.
Authors' contributions
MC and YT designed and participated in the experiments. MC, YT and TM drafted the manuscript. EB, YK, YN, HH and MT carried out the experiments with cells. MV, KS, and YF performed the statistical analysis. TM and KN conceived of the study, and participated in its design and coordination and helped to draft the manuscript. All authors read and approved the final manuscript.
Competing interests
Y. Togashi has received a lecture fee from Boehringer-Ingelheim, T. Mitsudomi has received lecture fees from Astra-Zeneca, Boehringer-Ingelheim, Chugai and Pfizer and research funding from Astra-Zeneca, Boehringer-Ingelheim, Chugai and Pfizer. K. Nishio has received lecture fees from Chugai, Daiichi Sankyo and Sumitomo Bakelite. The other authors do not have any potential conflicts of interest to report.
Consent for publication
Not applicable.
Ethics approval and consent to participate
Not applicable.
Publisher's Note
Springer Nature remains neutral with regard to jurisdictional claims in published maps and institutional affiliations.
Open Access
This article is distributed under the terms of the Creative Commons Attribution 4.0 International License (
http://​creativecommons.​org/​licenses/​by/​4.​0/​
), which permits unrestricted use, distribution, and reproduction in any medium, provided you give appropriate credit to the original author(s) and the source, provide a link to the Creative Commons license, and indicate if changes were made. The Creative Commons Public Domain Dedication waiver (
http://​creativecommons.​org/​publicdomain/​zero/​1.​0/​
) applies to the data made available in this article, unless otherwise stated.