01.12.2018 | Research | Ausgabe 1/2018 Open Access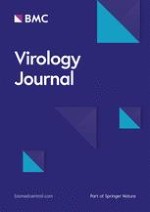 Enhanced human enterovirus 71 infection by endocytosis inhibitors reveals multiple entry pathways by enterovirus causing hand-foot-and-mouth diseases
Zeitschrift:
Autoren:

Meichun Yuan, Jingjing Yan, Jingna Xun, Chong Chen, Yuling Zhang, Min Wang, Wenqi Chu, Zhigang Song, Yunwen Hu, Shuye Zhang, Xiaoyan Zhang
Wichtige Hinweise
Electronic supplementary material
Abstract
Background
Human enterovirus 71 (EV71) was previously known to enter cells through clathrin or caveolar mediated endocytic pathways. However, we observed chlorpromazine (CPZ) or dynasore (DNS), which inhibit clathrin and dynamin mediated endocytosis, did not suppress EV71 cell entry in particular cell types. So the current knowledge of entry mechanisms by EV71 is not complete.
Methods
Viral infection was examined by flow cytometry or end-point dilution assays. Viral entry was monitored by immunofluorescence or pseudoviral infections. Various inhibitors were utilized for manipulating endocytic pathways. Cellular proteins were knockdown by siRNA.
Results
CPZ and DNS did not inhibit but rather enhance viral infection in A549 cells, while they inhibited infections in other cells tested. We further found CPZ did not affect EV71 binding to target cells and failed to affect viral translation and replication, but enhanced viral entry in A549 cells. Immunofluorescence microscopy further confirmed this increased entry. Using siRNA experiment, we found that the enhancement of EV71 infection by CPZ did not require the components of clathrin mediated endocytosis. Finally, CPZ also enhanced infection by Coxackivirus A16 in A549 cells.
Conclusions
CPZ and DNS, previously reported as EV71 entry inhibitors, may rather lead to increased viral infection in particular cell types. CPZ and DNS increased viral entry and not other steps of viral life cycles. Therefore, our study indicated an unknown dynamin-independent entry pathway utilized by enteroviruses that cause Hand-Foot-and-Mouth Diseases.