27.02.2019 | Original Research | Ausgabe 2/2019 Open Access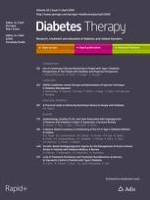 Evaluating the User Performance and Experience with a Re-Engineered 4 mm × 32G Pen Needle: A Randomized Trial with Similar Length/Gauge Needles
Zeitschrift:
Autoren:

Shahista Whooley, Toby Briskin, Michael A. Gibney, Lydia R. Blank, Julie Berube, Brian K. Pflug
Wichtige Hinweise
Enhanced Digital Features
Abstract
Introduction
Since insulin pens were first introduced in 1985, many advances have been made in pen needles (PNs). In this study we evaluated patient-reported outcomes of an investigational newly re-engineered 4 mm × 32G PN, the BD Nano™ 2nd Gen (also known by its "PRO" brand extension in many markets outside of the USA). In place of a conventional cylindrical posted hub, the investigational PN's hub is contoured with an expanded surface area. The investigational PN also includes a redesigned inner shield that includes tactile ridges and a remodeled outer cover with improved proportions and attachment grips.
Methods
This was a multi-site, prospective, open-label, two-period crossover trial. Individuals with type 1 and type 2 diabetes using 32G PNs of ≤ 6 mm in length for ≥ 4 months were eligible. Subjects using 31G PNs of a similar length were eligible after a 2-week wash-in period. Subjects were assigned to one of four groups, with each group using a commercially available PN to which the investigational PN was compared. Each of the two study periods were 15 days: one with the investigational PN and the other with a comparator PN. After completing both study periods, subjects compared experiences between the two PN types. A 150-mm comparative visual analog scale (VAS) was used to evaluate overall preference (primary endpoint) and several secondary endpoints, including overall comfort, injection pain, and ease of use. Data from the four PN groups were combined after poolability was verified. Subgroup analyses were also conducted on each PN group. For VAS responses, a two-sided 95% confidence interval (CI) was calculated for average rating. Threshold for non-inferiority or superiority was established at the lower bound CI of >  − 10 mm or > 0 mm, respectively.
Results
At baseline, average age of subjects was 55.6 years; 51.6% were female; and 85.1% has type 2 diabetes mellitus. Average diabetes duration was 14.2 years, and average duration of injecting was 7.8 years. The investigational PN demonstrated superiority for all outcomes, both primary and secondary, for all groups combined (
p
 < 0.05).
Conclusions
The investigational PN was rated as being overall preferred, more comfortable, less painful, and easier to use when compared to comparator PNs of similar gauge and length, in all groups combined.
Clinical Trial Registration
Clinicaltrials.gov (NCT03267264).
Funding
BD (Becton, Dickinson, and Company).