01.12.2018 | Research | Ausgabe 1/2018 Open Access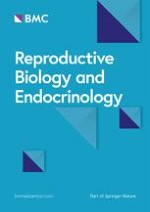 Expression of cystatin C in the female reproductive tract and its effect on human sperm capacitation
Zeitschrift:
Autoren:

Robert Kuo-Kuang Lee, Huan-Chin Tseng, Yuh-Ming Hwu, Chi-Chen Fan, Ming-Huei Lin, Jhih-Jie Yu, Ling-Yu Yeh, Sheng-Hsiang Li
Abstract
Background
Cystatin C (CST3), a cysteine protease inhibitor in seminal plasma, is expressed in animal uteri. However, its expression in the human female reproductive tract and its effect on human sperm capacitation are unclear.
Methods
The cellular localization of CST3 was observed using immunohistochemistry. The binding of CST3 to sperm was examined using immunocytochemistry. Sperm motility parameters were analyzed using computer-assisted sperm analysis. Sperm capacitation was evaluated by analyzing cholesterol content, protein tyrosine phosphorylation levels, and the acrosome reaction.
Results
Immunohistochemical staining demonstrated that CST3 is prominently expressed in the female reproductive tract, including the epithelial lining and cervix and endometrium fluids, particularly at times near ovulation. It can bind to human sperm on the post-acrosomal head region and the mid and principal piece of the tail. CST3 enhances sperm motility and inhibits the signal initiating sperm capacitation, i.e., efflux of cholesterol from the sperm plasma membrane and a late sperm capacitation event, i.e., the increase in the sperm protein tyrosine phosphorylation. The suppressive trend on sperm acrosome reaction further supports CST3's ability to inhibit sperm capacitation.
Conclusions
These findings suggest that cervical CST3 may prevent precocious capacitation and acrosome reaction, thus preserving sperm fertilizing ability before it reaches the fallopian tube. Additionally, CST3 may help sperm enter the upper reproductive tract by enhancing sperm motility.