01.02.2020 | Original Article | Ausgabe 1/2020 Open Access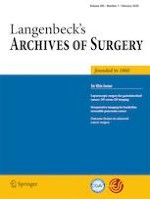 Extended hepatic metastasectomy for renal cell carcinoma—new aspects in times of targeted therapy: a single-center experience over three decades
Zeitschrift:
Autoren:

Oliver Beetz, Rabea Söffker, Sebastian Cammann, Felix Oldhafer, Florian W. R. Vondran, Florian Imkamp, Jürgen Klempnauer, Moritz Kleine
Wichtige Hinweise
Electronic supplementary material
Publisher's note
Springer Nature remains neutral with regard to jurisdictional claims in published maps and institutional affiliations.
Introduction
Renal cell carcinoma (RCC) is a malignant disease with increasing incidence, ranging from 3 to 12 cases per 100,000 people in Europe and Northern America.
Despite entering the era of novel targeted therapies such as tyrosine kinase inhibitors, mortality rates are still at more than 2.4 per 100,000 people in many Western countries [
1
]. This is partially owed to the fact that around 30% of the patients initially present themselves with synchronous distant metastases, whereas another 30% suffer from metachronous metastases after nephrectomy in curative intent [
2
]. Although bone and lung lesions are most frequently observed in cases of metastatic disease, the liver is involved in 20% of the patients [
3
]. Studies in the past have analyzed the influence of metastasectomy in general on the disease-free and disease-specific survival and showed beneficial effects for surgical resection in selected patients [
4
,
5
].
The role of hepatic resection is still a matter of debate: Grimes, Pikoulis, and Pinotti each published reviews on this issue with patient series ranging from 4 to 85 patients [
6
–
8
]. However, patients with RCC liver metastases are often included in reports on resection of non-colorectal and non-endocrine liver metastases, limiting the significance of drawn conclusions. Furthermore, none of the studies present significant patient numbers after introduction of targeted therapy.
Several scores have been provided in the past to estimate the prognosis of patients in a metastatic stadium (stadium IV) of RCC. The Memorial Sloan-Kettering Prognostic Factors Model, which was introduced by Motzer et al. in 1999 and modified by Mekhail et al. in 2005, is currently the most widely accepted and validated model for larger patient series [
9
–
11
].
The objective of the present study was to validate the latter prognostic model for patients undergoing resection of hepatic metastases and to further evaluate the influence of major and extended liver or multivisceral resection (among other selected variables) on the outcome in this special patient collective.
Methods
Study cohort
This is a retrospective analysis of patients with stage IV RCC undergoing surgical resection at the Department of General, Visceral and Transplant Surgery, Hannover Medical School, Germany between April 1993 and April 2017.
Inclusion criteria
Included were all hepatic resections for histologically confirmed metastases of RCC in patients older than 18 years of age. Patients with concomitant extrahepatic disease were included in cases of resectability. No further exclusion criteria were defined. Two patients were lost to follow-up immediately after discharge and were therefore excluded from further survival analysis.
Definition of variables
Major hepatic surgery was defined as resection of 3 or more liver segments, whereas extended hepatic surgery was defined as resection of 5 or more segments, based on the Brisbane classification [
12
]. Multivisceral resection was defined as additional resection of infiltrated extrahepatic tissue.
The patients were stratified according to the modified Memorial Sloan-Kettering Score as introduced by Mekhail et al. in 2005 [
10
]. Poor prognostic factors summarized to a total score for each patient were time from RCC diagnosis until hepatic metastasectomy less than 12 months, hemoglobin levels below lower limit of reference range, LDH more than 1.5 times above the upper limit of reference range, corrected serum calcium above 10 mg/dl, previous radiotherapy, and more than one metastatic site. Patients were stratified into three groups: favorable (0–1 risk factors), intermediate (2 risk factors), poor (3 or more risk factors) risk groups [
10
].
Postoperative complications were classified according to Dindo et al., ranging from grade 0 (no complications), grade I (minor deviations), grade II (significant alterations), grade III (requiring interventions), grade IV (life-threatening), to grade V (death) [
13
].
Study endpoints
Primary study endpoints were disease-free (DFS) and overall survival (OS) upon resection of RCC liver metastases. DFS was defined as time between hepatic metastasectomy and proof of disease recurrence in the course of follow-up, irrespective of the localization (not limited to hepatic recurrence). Secondary endpoints were surgical complications as defined by Dindo et al. and length of hospital and intensive care unit (ICU) stay.
Statistical methods
The influence of nominal and ordinal variables on binary study endpoints was analyzed with chi-squared test and Fisher's exact test. Median and mean values between groups were compared with the Student's
t
test or Mann-Whitney
U
test. Kaplan-Meier analyses including log-rank tests were performed where appropriate. Risk factors for patient survival were initially analyzed with univariable Cox regression analysis. Identification of independent risk factors influencing DFS and OS was achieved by using purposeful selection of variables with a rate of missing values < 10% and
p
values in univariable Cox regression of < 0.300 and consecutive stepwise forward selection.
The collected data was implemented and analyzed using SPSS statistical software (version 26; SPSS Inc.; IBM Corporation, Armonk, NY, USA) and GraphPad Prism (version 8.3.0 for Windows, GraphPad Software, La Jolla, CA, USA).
Results
Discussion
Despite several studies on metastasectomy in patients suffering from grade IV RCC, the role of resection of hepatic lesions, especially in times of efficient systemic therapy, remains elusive.
The modified Memorial Sloan-Kettering Prognostic Factors Model for patients with metastasized RCC could not be validated in our patient series, despite a trend toward superior survival for the favorable-risk group. This could be the result of a comparatively small sample size, with only four patients allocated to the poor-risk group. We suggest that larger patient series, preferably in multi-center studies, should be analyzed in the future to clarify the role of the abovementioned prognostic model in patients with RCC liver metastases.
Conclusion
Despite the introduction of novel targeted therapies, surgical concepts still remain the only chance for long-term survival or cure in selected patients. Hepatic metastasectomy on patients with RCC stage IV disease can be performed safely and allows long-term survival, albeit with an increased risk of postoperative complications especially following multivisceral surgery. It will be crucial to define the role of hepatic metastasectomy with a focus on patients suffering from an extended metastatic disease in the context of future multimodal therapy strategies.
Compliance with ethical standards
Conflict of interest
The authors declare that they have no conflict of interest.
Informed consent and ethics approval
Patients provided informed consent that their data may be used for scientific purposes at the time of hospital admission which is the general policy of our institution. The ethical committee of Hannover Medical School stated that no further approval for retrospective analyses is needed. Patient records and patient data were anonymized and de-identified prior to analysis.
Open Access
This article is licensed under a Creative Commons Attribution 4.0 International License, which permits use, sharing, adaptation, distribution and reproduction in any medium or format, as long as you give appropriate credit to the original author(s) and the source, provide a link to the Creative Commons licence, and indicate if changes were made. The images or other third party material in this article are included in the article's Creative Commons licence, unless indicated otherwise in a credit line to the material. If material is not included in the article's Creative Commons licence and your intended use is not permitted by statutory regulation or exceeds the permitted use, you will need to obtain permission directly from the copyright holder. To view a copy of this licence, visit http://creativecommons.org/licenses/by/4.0/.
Publisher's note
Springer Nature remains neutral with regard to jurisdictional claims in published maps and institutional affiliations.