12.02.2018 | Metabolomics | Ausgabe 3/2018 Open Access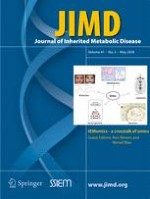 Fast and accurate quantitative organic acid analysis with LC-QTOF/MS facilitates screening of patients for inborn errors of metabolism
Zeitschrift:
Autoren:

Irene M. L. W. Körver-Keularts, Ping Wang, Huub W. A. H. Waterval, Leo A. J. Kluijtmans, Ron A. Wevers, Claus-Dieter Langhans, Camilla Scott, Daphna D. J. Habets, Jörgen Bierau
Wichtige Hinweise
Communicated by: Michael J. Bennett
Electronic supplementary material
Irene M. L. W. Körver-Keularts and Ping Wang contributed equally to this work.
Introduction
Urinary organic acid analysis is a pivotal technique in selective screening for inborn errors of metabolism (IEMs) (Tanaka et al
1980
; de Almeida and Duran
2014
). The current state of the art relies on gas-chromatography coupled to mass spectrometry (GC-MS) of derivatized compounds. By its nature, the literally hundreds of organic acids present in human urine, endogenous as well as microbiome, drugs and other xenobiotic-derived metabolites (Blau et al
2014
), can be detected by GC-MS. In fact, GC-MS analysis is the forerunner of untargeted metabolomics analysis as we nowadays envision it.
GC-MS has several advantages. It has high separation efficiency of metabolites, high specificity and sensitivity, few matrix effects, and broadly covered mass spectra libraries for identification of metabolites of interest are widely available (Pasikanti et al
2008
). Disadvantages are clearly present since organic acids are not volatile and require organic solvent extraction and derivatization prior to GC-MS analysis. This makes the procedure laborious, and compared to underivatized tandem-mass spectrometry methods, time-consuming in terms of analytical run-time. Moreover, a relatively large sample volume is needed, despite efforts to increase throughput and reduce sample volume (Nakagawa et al
2010
).
High resolution proton nuclear magnetic resonance (NMR) spectroscopy is a good alternative for organic acid analysis (and even broader IEM screening) with minimal sample preparation and a short experimental time. NMR spectroscopy did, however, not evolve in common IEM screening because of financial constraints and its relatively low sensitivity in the low millimolar range (Moolenaar et al
2003
). Alternative liquid chromatography (LC)-quantitative hyphenated tandem mass spectrometry (MS/MS) techniques have been developed that allow high-throughput (Want et al
2010
; Bouatra et al
2013
). LC-MS/MS has outstanding sensitivity (in low nanomolar range) and specificity but only targeted metabolites, i.e., those a-priori selected in the method, are detected and quantified. The relatively recent introduction of high-resolution (HR) mass spectrometry in the form of time-of flight (TOF) MS and Orbitrap MS specificity allowed a major breakthrough. LC-HR MS combines the analytical power of LC-MS/MS with the unbiased quality of classical GC-MS, and thus enables not only the quantification of target metabolites, but also facilitates untargeted metabolite screening. Until now, LC-HR MS, including LC-QTOF/MS that combined with a quadrupole (Q), has been widely deployed in research settings (Paglia et al
2012
), including inborn errors of metabolism (Wikoff et al
2007
). Apart from a qualitative untargeted metabolomics approach (Miller et al
2015
), no quantitative application suitable for routine diagnostic setting has been reported in the inborn errors of metabolism (IEM) field.
Here, we present our newly developed LC-QTOF/MS method for the quantitative analysis of urinary organic acids. This method covers a panel of critical biomarkers targeting defects in branched-chain amino acid-, lysine- and tryptophan-, aromatic amino acid-, neurotransmitter-, fatty acid- and pyrimidine metabolism as well as disorders in the Krebs cycle and urea cycle, amino acylase deficiencies and various other disorders. In addition, four medication-related metabolites were included in the panel, to allow discrimination between metabolic defects and medication. Analytical and diagnostic suitability were demonstrated in a cohort of individual urine samples, including proven IEMs. To expedite clinical interpretation we introduced z-score value plots. Our results demonstrate the suitability of this new method in the routine setting of selective metabolic screening.
Material and methods
Results
Analytical characteristics of the LC-QTOF/MS method
The UHPLC coupled QTOF/MS method was able to separate and identify 74 analytes. The 2- and 3-hydroxyadipic acid isomers could not be resolved due to identical retention times and were therefore analyzed as one combined signal. Adipic acid and 3-methylglutaric acid have the same mass and comparable hydrophobicity. At normal physiological conditions, concentrations of both metabolites are low and there is a 0.05 min difference in retention time allowing adequate distinction. At pathological levels, however, the peak of the biomarker compound overwhelms another one. We need to combine the profile of biomarks and clinical presentation to resolve the identity of the peak. The suboptimal peak shapes of 2-methylcitric acid, succinylacetone (Suppl.
Figure
), citric acid, and oxoadipic acid hampered correct quantification, but analogue isotopic internal standards corrected for that to some extent.
Linearity and recovery
Linear calibration curves (
R
2
 > 0.98) were obtained in water and urine for all 68 analytes (Table
1
). The recovery was 100 ± 15% for the vast majority of analytes (63/68) in urine. For 2-methylcitric acid, acetoacetic acid, 4-hydroxybutyric acid, malonic acid, and pyroglutamic acid recovery was out of this range. For 2-methylcitric acid, acetoacetic acid, and malonic acid this can be explained by the chromatographic peak shape. Detection of 4-hydroxybutyric acid and pyroglutamic acid was complicated by ion suppression which could not be completely corrected for by using alternative internal standards.
Limits of detection and quantification
The majority of the analytes had an estimated limit of quantification (LOQ, concentration equivalent to S/
N
 > 10) < 3 μmol/l. Succinic acid, oxoglutaric acid, ethylmalonic acid, 2-oxovaleric acid, 2-methyl-3-hydroxybutyric acid, 4-hydroxyphenylpyruvic acid, fumaric acid, glycolic acid, 3-methylglutaconic acid, malic acid, oxoadipic acid, 3-hydroxyisobutyric acid, 3-hydroxybutyric acid, succinylacetone, pyruvic acid, and methylmalonic acid had a LOQ ≤ 15 μmol/l. Three compounds had a higher LOQ, i.e., 4-hydroxybutyric acid (18 μmol/l), malonic acid (21 μmol/l), and acetoacetic acid (69 μmol/l).
Within- and between-run variation
Within-run variation was satisfactory for all analytes in urine, the coefficient of variation was ≤10% for the vast majority of compounds. The coefficient of variation was slightly higher for lactic acid (11%), 2-methylcitric acid (12%), malic acid (12%), and mevalonic acid (23%). For 2-methylcitric acid and malic acid the higher variation is explained by poor peak-shape, whereas mevalonic acid is unstable in the acid environment.
The between-run variation was satisfactory at low (CV < 20%) and for high calibration levels (CV < 10%) for the majority of compounds. For acetoacetic acid the CV was 13% at 93 μM; for 2-methylcitric acid CV 14% at 88 μM, poor peak-shape being the main explanation.
1.
Comparison and correlation between GC-MS and LC-QTOF/MS methods
The results on 24 organic acids in 28 samples from the ERNDIM quantitative organic acids scheme were used to compare the GC-MS and LC-QTOF/MS methods (Fig.
1
). An acceptable recovery for an individual metabolite was defined as a recovery between 80 and 120%. For the LC-QTOF/MS method 20/24 analytes showed an acceptable recovery which was similar to medians of all participating labs in the original ERNDIM scheme (21/24) (Fig.
1
). LC-QTOF/MS had significantly improved recovery for: pyroglutamic acid, tiglylglycine, and 3-hydroxyisobutyric acid. For oxoglutaric acid and mevalonic acid, the LC-QTOF/MS recovery was below 80% but still satisfactory for diagnostic purposes. Both GC-MS (medians of all labs) and LC-QTOF/MS methods had excellent linearities for all 24 analytes (Suppl. Table
s4
). Passing-Bablok regression analysis indicated that the LC-QTOF/MS and the GC-MS (median of all labs) methods were highly correlated and comparable. Mevalonic acid, oxoglutaric acid, 3-hydroxyisobutyric acid, pyroglutamic acid, and tiglylglycine showed a significant difference with a slope out of range 0.8–1.2 (Suppl. Table
S4
).
2.
Clinical validation of the LC-QTOF/MS methods
In the clinical validation, we analyzed 99 diagnostic samples of patients with an IEM (32 different IEMs included) and 88 control samples. Figure
2
is a summary of the z-scores on critical biomarkers for the 32 different IEM. Most IEM were easily recognized with z-scores of biomarkers clearly >2.5 in the z-score profile. In our daily practice, the actual concentrations are considered in addition to the z-scores profile. In all control urine samples, the majority of the biomarkers had z-scores between −2.5 to 2.5. Figure
3
shows representative z-score profiles of patients with isovaleric aciduria (IVA, OMIM #243500), medium chain acyl-CoA dehydrogenase deficiency (MCADD, OMIM #201450), propionic aciduria (PA, OMIM #606054), glutaric aciduria type 1 (GA I, OMIM #231670), and methylmalonic aciduria (MMA (
mut
0
), OMIM #251000).
×
×
×
For maple syrup urine disease (MSUD, OMIM #248600), 2-hydroxy-3-methylpentanoic acid and 2-hydroxy-3-methylbutyric acid were the most discriminating biomarkers with z-scores >10 in all patients. Five patients with a glutaric aciduria type I (GA I, OMIM #231670) were easily diagnosed based on elevated concentrations of 3-hydroxy-glutaric acid (z-score > 10); four of them also had significantly elevated glutaric acid. Only one GA I patient had a normal excretion of glutaric acid.
Five patients with glutaric aciduria type II (GA II, multiple acyl-CoA dehydrogenase deficiency (MADD), OMIM #231680) presented with an increased excretion of ethylmalonic acid (EMA), glycine conjugated as well as dicarboxylic acids. Glutaric acid and 2-hydroxyglutaric acid were not consistently elevated in all three cases. A mild MADD case even presented with non-significant excretion of 2-hydroxyglutaric acid (z-score 2.5) but with a clear increase in both EMA and dicarboxylic acids. The excretion of EMA in MADD is comparable in z-score to short-chain acyl-CoA dehydrogenase deficiency (SCADD, OMIM #201470).
In all MCADD patients, phenylpropionylglycine, hexanoylglycine, and suberylglycine were significantly increased with z-scores >5.0.
One patient with 5-oxoprolinuria (pyroglutamic aciduria, OMIM #266130) was included and had a high excretion of pyroglutamic acid (z-score > 10). The absence of paracetamol metabolites acetaminophen glucuronide and acetaminophensulphate excluded medication-related changes. In other patients within our sample panel on paracetamol indicated by the presence of these two medication-related metabolites, only a minor increase of pyroglutamic acid (z-score 2.5–5.0) (data not shown) was observed.
Discussion
All these factors and representation of results as a long list of numbers made it easy to miss a diagnosis despite reference values. This is why we introduced z-score plots. In the broad panel of IEMs included in this clinical validation, the z-score plot proved to be a useful and easy to use tool for labs to interpret the analytical results of the LC-QTOF/MS method.
Acknowledgements
This worked is supported by Maastricht University Medical Center, and subsidy on P. Wang and I. Körver-Keularts from the Stofwisselkracht foundation (
http://​www.​stofwisselkracht​.​nl
). The authors acknowledge the use of data derived from ERNDIM EQA materials in this manuscript. The use of ERNDIM EQA materials does not imply that ERNDIM endorses the methods used or the scientific validity of the findings in this manuscript. ERNDIM (
www.​erndim.​org
) is an independent, not for profit foundation that provides EQA schemes in the field of inborn errors of metabolism with the aim of improving diagnosis, treatment, and monitoring of inherited metabolic diseases. We also thank Ed van der Heeft from Radboud University Medical Center for useful discussion on technical issues.
Compliance with ethical standards
Conflict of interest
None.
Open Access
This article is distributed under the terms of the Creative Commons Attribution 4.0 International License (http://creativecommons.org/licenses/by/4.0/), which permits unrestricted use, distribution, and reproduction in any medium, provided you give appropriate credit to the original author(s) and the source, provide a link to the Creative Commons license, and indicate if changes were made.