01.09.2016 | Regular Article | Ausgabe 5/2016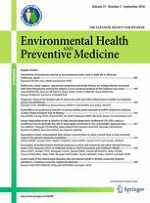 Frequency, causes and human impact of motor vehicle-related road traffic accident (RTA) in Lubumbashi, Democratic Republic of Congo
Zeitschrift:
Autoren:

Luzitu Severin Nangana, Ben Monga, Nlandu Roger Ngatu, Etongola Papy Mbelambela, Lukuke Hendrick Mbutshu, Kaj Francoise Malonga
Abstract
Objectives
Road traffic accident (RTA)-related trauma remains a public health issue. The aim of this study was to determine the frequency, causes and human impact of motor vehicle-related RTA in Lubumbashi, Democratic Republic of Congo.
Methods
A prospective cross-sectional study was conducted in the first semester of the year 2015 in which 288 drivers (144 RTA-causing drivers and 144 control drivers who have been declared not guilty by road safety agents) involved in 144 motor vehicle-related RTA were interviewed, and only data on all RTA involving two motor vehicles with at least four wheels were recorded and analyzed.
Results
Results showed a total of 144 RTA that involved two motor vehicles with four wheels occurring during the study period which affected 104 people, including 93 injury and 11 fatality cases. The mean age of RTA-causing drivers was 33.8 ± 7.4, whereas it was 35 ± 8.8 for control drivers. The majority of RTA-causing drivers (53.4 %) did not attend a driving school. Over speeding (32 %), distracted driving (22 %), overtaking (16 %) and careless driving/risky maneuver (15 %) and driving under the influence of alcohol (9 %) were the main causes of RTA occurrence. In addition, the absence of a valid driving license [aOR = 12.74 (±2.71); 95 % CI 3.877–41.916;
p
= 0.015], unfastened seat belt for the RTA-causing driver [aOR = 1.85 (±0.62); 95 % CI 1.306–6.661;
p
= 0.048] and presence of damages on RTA-causing vehicle [aOR = 33.56 (24.01); 95 % CI 1.429–78.352;
p
= 0.029] were associated with the occurrence of RTA-related fatality.
Conclusion
This study showed a relatively high frequency of RTA occurring in Lubumbashi and suggests the necessity to reinforce road traffic regulation.