29.03.2016 | Original Article | Ausgabe 2/2016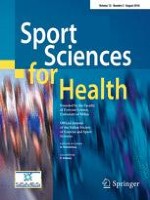 GOKIO KUMBU/AMADABLAM TREK 2012: stabilometric adaptation in women to exercise training at low and high altitude
Zeitschrift:
Autoren:

Andrea Scordella, Christian Doria, Vittore Verratti, Giorgio Fanò-Illic, Tiziana Pietrangelo
Abstract
Purpose
Balance is the essential ability to maintain posture during physical activity and daily life. Exercise can have acute and chronic effects on postural stability. Individual exercise sessions can decrease postural stability, while long-term training improves balance and postural sway. Consequently, athletes and people undergoing training have better postural sway than more sedentary subjects. Hypobaric hypoxia has also been suggested to cause stress and adaptation of balance abilities. Thus, the aim of this study was to determine the effects of exercise training under normoxia and hypobaric hypoxia on postural sway.
Methods
Seven adult females participated in this study. They underwent assessments of posture before and after 12 days of low-to-moderate exercise training at low altitude, and the same 4 months later, after 12 days of exercise training at high altitude. The data collected included: centre of pressure, average speed oscillation, and Romberg Quotient. This generated a total of 56 posture tests for these seven subjects.
Results and conclusions
The results of this research suggest that comparing the each period of activity (pre-exercise) and after the end of each period (post-exercise), both at low and at high altitudes, did not influence the postural stability.