01.12.2018 | Research article | Ausgabe 1/2018 Open Access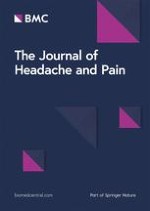 Headache following head injury: a population-based longitudinal cohort study (HUNT)
Zeitschrift:
Autoren:

Lena Hoem Nordhaug, Knut Hagen, Anne Vik, Lars Jacob Stovner, Turid Follestad, Torunn Pedersen, Gøril Bruvik Gravdahl, Mattias Linde
Abstract
Background
Headache is the most frequent symptom following head injury, but long-term follow-up of headache after head injury entails methodological challenges. In a population-based cohort study, we explored whether subjects hospitalized due to a head injury more often developed a new headache or experienced exacerbation of previously reported headache compared to the surrounding population.
Methods
This population-based historical cohort study included headache data from two large epidemiological surveys performed with an 11-year interval. This was linked with data from hospital records on exposure to head injury occurring between the health surveys. Participants in the surveys who had not been hospitalized because of a head injury comprised the control group. The head injuries were classified according to the Head Injury Severity Scale (HISS). Multinomial logistic regression was performed to investigate the association between head injury and new headache or exacerbation of pre-existing headache in a population with known pre-injury headache status, controlling for potential confounders.
Results
The exposed group consisted of 294 individuals and the control group of 25,662 individuals. In multivariate analyses, adjusting for age, sex, anxiety, depression, education level, smoking and alcohol use, mild head injury increased the risk of new onset headache suffering (OR 1.74, 95% CI 1.05–2.87), stable headache suffering (OR 1.70, 95% CI 1.15–2.50) and exacerbation of previously reported headache (OR 1.93, 95% CI 1.24–3.02). The reference category was participants without headache in both surveys.
Conclusion
Individuals hospitalized due to a head injury were more likely to have new onset and worsening of pre-existing headache and persistent headache, compared to the surrounding general population. The results support the entity of the ICHD-3 beta diagnosis "persistent headache attributed to traumatic injury to the head".