01.12.2017 | Research article | Ausgabe 1/2017 Open Access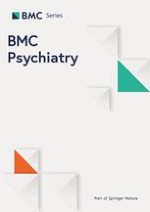 High-intensity therapist-guided internet-based cognitive behavior therapy for alcohol use disorder: a pilot study
Zeitschrift:
Autoren:

Christopher Sundström, Martin Kraepelien, Niels Eék, Claudia Fahlke, Viktor Kaldo, Anne H. Berman
Wichtige Hinweise
Electronic supplementary material
The online version of this article (doi:
10.​1186/​s12888-017-1355-6
) contains supplementary material, which is available to authorized users.
Background
The aim of the present study was to evaluate the feasibility and preliminary effects of a high-intensity therapist-guided ICBT program for people with a diagnosed alcohol use disorder. We hypothesized that ICBT would be acceptable to the participants and that it would be associated with a reduction in alcohol consumption and in other alcohol-related measures.
Methods
Design
This was an uncontrolled pilot study intended to evaluate the feasibility and preliminary effects of a comprehensive, therapist-guided CBT program for alcohol use disorders. A within-group design with repeated measures was used.
Procedure and participants
Between March 18 and April 13, 2015, an advertisement about the study was shown on the Swedish self-help site alkoholhjalpen.se. Individuals who registered their interest in participating were sent a brief presentation of the study along with a link to the program homepage where they could create an account in order to enroll in the study. The recruitment process was then conducted in two steps. The first step consisted of providing informed consent to participate in the study and completing online screening forms. The forms covered demographic characteristics (see Additional file
1
) and eight questionnaires. The inclusion criterion in this first step was a score on the Alcohol Use Disorders Identification Test (AUDIT) [
31
] of 14 or more for women or 16 or more for men, indicating harmful use or dependence [
32
]. Exclusion criteria were a) severe depression as measured by the Montgomery Asberg Depression Self-Rating Scale (MADRS-S) [
33
] (a score of >30); and/or b) suicidal ideation as measured by 5 or 6 points on the MADRS-S question measuring suicidal ideation (item 9). In the second step of the recruitment process, participants eligible for inclusion after the first step were contacted and interviewed via telephone by a licensed clinical psychologist or a clinical psychology student at the Master of Science (MSc) level. The interview lasted about 30–45 min and consisted of three parts: 1) a brief anamnestic interview about the participant's relation to alcohol and experiences of it (see Additional file
2
); 2) a semi-structured interview for assessing AUD with the Structured Clinical Interview DSM IV (SCID-IV) [
34
], where criteria were adapted to the DSM-5 [
35
]; and 3) a structured interview to assess psychiatric comorbidity with the Mini International Neuropsychiatric Interview (MINI) [
36
]. The modules on AUD and Substance Use Disorders in MINI were not used, since the SCID-IV interview module on AUD provides more detailed information. Exclusion criteria in the second step of the recruitment process were: a) severe depression as measured by MINI or the anamnestic interview; b) severe psychiatric comorbidity as measured by MINI or the anamnestic interview; c) suicidal ideation according to MINI or the anamnestic interview; or d) ongoing psychological treatment for alcohol problems. Before receiving access to the program, participants once again completed two measures: the Time Line Follow Back (TLFB) and MADRS-S as pre-treatment measures. The treatment phase lasted 12 weeks and included contact via secure messaging with the therapist. Participants were given consecutive access to the modules in the program after completing homework assignments in the module worksheets. Three licensed clinical psychologists (CS, MK, NE) acted as therapists for the participants and provided feedback within 48 h during weekdays. Throughout the treatment, MADRS-S was administered weekly. If participants scored 4 or more at any time on item 9, which measures suicidal ideation, a therapist contacted them. At the beginning of the last treatment week, the participants again completed the questionnaires, except for the Readiness to Change Questionnaire (RCQ), which was only administered at screening. Participants also completed the Client Satisfaction Questionnaire-8 (CSQ-8) and other questions concerning evaluation of the treatment (see Additional file
3
) and questions about whether other forms of support for alcohol problems had been received during the 12 weeks. Participants were also interviewed by telephone by the first author (CS) to assess adverse events (see Additional file
4
) through the following question: "Have you at any point during treatment experienced one or more unwanted events that you feel was caused by the treatment, or experienced one or more unwanted effects due to the treatment?" Three months after treatment was completed, participants completed the post-treatment questionnaires again. Participants were not referred to any other treatments after the participating in the internet-based program offered in this study; no additional information about any other treatment was offered. For the participant flow throughout the study, see Fig.
1
.
×
Participant demographics and characteristics of the 13 included participants are presented in Table
1
. Three individuals screened positive for several psychiatric comorbidities in the diagnostic interview: one for social anxiety disorder, generalized anxiety disorder and antisocial personality disorder, one for depression and antisocial personality disorder, and one for social anxiety disorder and agoraphobia. One individual (age 26) had 3 points on the Drug Use Disorder Identification Test (DUDIT).
Table 1
Participants' demographic characteristics at baseline
Variable

Category

Age

Age in years, m (sd)

49.5 (15.0)

Range in years

24–71

Gender

Female

9 (69%)

Marital status

Married/living with a partner/in a relationship

8 (62%)

Divorced

4 (31%)

Single

1 (8%)

Educational level

College/university

8 (62%)

Secondary school (grades 10–12)

3 (23%)

Compulsory school (grades 1–9)

2 (15%)

Current employment in percent (%)

Full time (100%)

8 (62%)

Part-time

2 (16%)

Not employed

3 (23%)

Self-perceived economic situation

Very good

4 (31%)

Good

4 (31%)

Neither good nor bad

4 (31%)

Bad

1 (8%)

Very bad

0 (0%)

Years with self-reported alcohol problems

1–2 years

3 (23%)

3–5 years

3 (23%)

6–10 years

1 (8%)

More than 10 years

6 (46%)

Previously sought help for alcohol problems

Yes

6 (46%)

Prior support received when seeking help

Psychotherapy

2 (33%)

Alcoholics Anonymous

2 (33%)

Medication

4 (67%)

Alcohol Use Disorder (DSM-5)

Mild (2–3 criteria)

1 (8%)

Moderate (4–5 criteria)

4 (31%)

Severe (6 or more criteria)

8 (62%)

Psychiatric comorbidity

Yes

3 (23%)

Readiness to Change (RCQ)

Pre contemplation

0 (0%)

Contemplation

1 (8%)

Action

12 (93%)
Measures
Results
Attrition
Two participants terminated treatment during the first week, one because of simultaneous enrollment in a group treatment for alcohol problems and one due to perceived lack of time. A third participant dropped out of the treatment about halfway through, due to self-reported stress and anxiety associated with partaking in the treatment. All three individuals were retained in the primary analysis according to the intention-to-treat (ITT) principle.
Outcomes and effect sizes
Outcomes and effect sizes for alcohol consumption the preceding week and other outcome measures at screening, post-treatment and 3-month follow-up are presented in Table
3
. The GEE analyses revealed significant main effects for time on all measures; pairwise comparisons are shown in Table
3
.
Table 3
Observed mean (SE), change values (SE) and effect sizes
| | Screening | Pre treatment | Post treatment | 3 month follow up | Change screening to post-treatment | d | Change screening to 3-month follow up | d | Change posttreatment to 3- month follow- up | d |
| --- | --- | --- | --- | --- | --- | --- | --- | --- | --- | --- |
| TLFB | 23.4 (4.2) | 19.5 (5.3) | 10.3 (3.0) | 5.1 (2.2) | 13.1 (3.6) c | 1.00 | 18.0 (4.4) c | 1.20 | 4.9 (2.7) | 0.54 |
| AUDIT | 23.7 (1.4) | - | 14.4 (1.9) | 10.9 (2.2) | 9.3 (2.0) c | 1.24 | 12.8 (2.0) c | 1.82 | 3.5 (2.2) | 0.42 |
| AASE | 2.19 (0.20) | - | 3.39 (0.27) | 3.65 (0.23) | 1.20 (0.24) c | 1.36 | 1.46 (0.24) c | 1.59 | 0.26 (0.27) | 0.25 |
| PACS | 13.3 (2.3) | - | 9.5 (1.6) | 5.3 (1.3) | 3.9 (1.8) a | 0.63 | 8.0 (1.8) c | 1.32 | 4.2 (1.4) b | 0.78 |
| MADRS | 14.9 (2.6) | 12.9(1.8) | 7.5 (1.8) | 7.3 (1.9) | 7.3 (2.7) b | 0.75 | 7.5 (2.7) b | 0.75 | 0.2 (1.2) | 0.05 |
| WHOQOL- Physical | 63.2 (3.1) | - | 72.0 (4.1) | 74.5 (3.4) | 8.8 (3.7) a | 0.66 | 11.3 (3.6) b | 0.83 | 2.5 (3.7) | 0.18 |
| WHOQOL- Psychological | 53.8 (3.5) | - | 66.7 (4.2) | 67.6 (4.4) | 12.8 (4.3) b | 0.80 | 13.8 (4.9) b | 0.76 | 1.0 (3.6) | 0.07 |
| WHOQOL- Social | 54.5 (3.8) | - | 64.1 (5.1) | 67.3 (5.7) | 9.6 (4.3) a | 0.61 | 12.8 (5.4) a | 0.66 | 3.2 (5.1) | 0.17 |
| WHOQOL-Environmental | 72.8 (3.6) | - | 77.2 (4.1) | 79.1 (3.8) | 4.3 (3.2) | 0.37 | 6.3 (2.5) a | 0.68 | 1.9 (2.1) | 0.25 |
There was a mean time lag of 10.5 days between screening and start of treatment for the participants, ranging between 0 and 26 days. For this reason, and to control for some of the unspecific effects of participating in an assessment and taking the step of deciding to participate in treatment, effect sizes were also calculated for TLFB from Pre-treatment (rather than screening) to Post-treatment and the 3 month follow-up. The effect size for Pre-Post was 0.76 and for Pre-3-month follow-up was 0.79, which was lower than when using screening as baseline, but still significant (
p
-values = 0.02 and 0.007, respectively; not shown in Table
3
). To illustrate the change process during treatment on the primary outcome, Fig.
2
shows the mean number of self-reported standard drinks over the preceding week during the treatment according to TLFB and weekly assessments. Concerning the DUDIT, at post-treatment three individuals (ages 26, 24 and 71) scored 3, 3 and 4 points respectively and at the 3-month follow-up two individuals scored 3 points each (not shown in Table
3
).
×
Treatment activity
During the 12-week treatment, the participants sent an average of 16.2 (sd = 7.2) messages to the therapist, ranging from 2 to 28 messages per participant. The therapists sent an average of 16.9 (sd = 10.4) messages to each participant, ranging from 1 to 35 messages per participant. Participants submitted an average of 59% of the 13 homework assignment report forms (m = 7.7, sd = 4.5) ranging from 0 to 13 homework report forms per participant.
Treatment acceptability
Participant satisfaction ratings on the CSQ-8 indicated that satisfaction was excellent with a mean score on the CSQ-8 of 25.7 (range 18–32, SD = 3.98) [
60
]. Participants also answered evaluation questions specifically about their experiences of the treatment content, program usage, and the therapist contact. Concerning the treatment content, 91% stated that they found the text interesting and relevant, and all participants stated that they read 75% or more of everything there was to read. Concerning program usage, 73% stated that they worked quite actively with the homework assignments. Concerning therapist contact, 73% stated that they felt they had received lot of help from the therapist contact and 82% stated that they thought it was easy to understand what the therapist wrote.
Other treatments and adverse events
One participant reported having initiated medication for alcohol use during the treatment (disulfiram), and four participants reported having received some other form of help for their alcohol use; two of these had visited a doctor, one had visited a self-help web site and one had attended 12-step meetings. No adverse events were reported in the post-treatment interviews. However, as mentioned previously, one participant did terminate treatment due to self-reported stress and anxiety, and although this participant did not define this as an adverse event in the interview, our clinical judgment is that it constituted an adverse event.
Discussion
Conclusion
ICBT seems to be a feasible, safe and acceptable treatment for people with alcohol use disorders. The next step is to validate the effects in a randomized controlled trial.
Acknowledgements
We thank Karin Romberg, MSc, for helpful comments on an earlier version of the ePlus manual.
Funding
This study was supported by grants to author AHB from the Swedish Research Council, nr K2012-61X-22,132-01-6, supporting author CS during manuscript preparation; and grant nr K2012-61P-22,131-01-6, supporting author AHB's salary throughout the project. All other authors were supported by their employers for their work throughout the project. The funding organizations had no role in the conception of the study, in the analyses of the data, in the writing of the manuscript, nor in the decision to submit it for publication.
Availability of data and materials
The data set supporting the results of this article is available in the Open ICPSR repository with the following identifying information: Berman, A. H. (2017–01-31). High-intensity therapist-guided internet-based cognitive behavior therapy for alcohol use disorders – a pilot study. [Data set]. Ann Arbor, MI: Inter-university Consortium of Political and Social Research [distributor].
http://​doi.​org/​10.​3886/​E100415V1
.
Authors' contributions
Authors CS, VK, NE, CF and AHB conceived the study together. Data were collected by CS, NE and MK. CS wrote the manuscript with continual input from all authors. All authors reviewed the final article text and are responsible for its contents.
Competing interests
All authors declare that they have no competing interests.
Consent for publication
No individual details on participants such as images, videos or voice recordings were collected; thus specific consent for publication was not deemed necessary.
Ethics approval and consent to participate
All participants were informed about the aim of the study and procedure for data collection. This information included a standard formulation regarding the voluntary nature of study participation as well as the message that participants could leave the study at any time without any negative consequences. Formal ethical approval was granted by the Stockholm Regional Ethical Review Board (ref nr 2015/26–31).
The study was approved by the Regional Ethics Review Board in Stockholm, Sweden (2015/26–31) and registered at ClinicalTrials.gov (NCT02384278 February 26, 2015). Informed consent was collected digitally before screening via the statement "I agree to participate in the study," with response alternatives "Yes/No." No separate written consent was collected.
Publisher's Note
Springer Nature remains neutral with regard to jurisdictional claims in published maps and institutional affiliations.
Open Access
This article is distributed under the terms of the Creative Commons Attribution 4.0 International License (
http://​creativecommons.​org/​licenses/​by/​4.​0/​
), which permits unrestricted use, distribution, and reproduction in any medium, provided you give appropriate credit to the original author(s) and the source, provide a link to the Creative Commons license, and indicate if changes were made. The Creative Commons Public Domain Dedication waiver (
http://​creativecommons.​org/​publicdomain/​zero/​1.​0/​
) applies to the data made available in this article, unless otherwise stated.