01.11.2010 | Original Research | Ausgabe 11/2010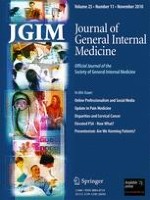 Higher Physician Density is Associated with Lower Incidence of Late-stage Colorectal Cancer
Zeitschrift:
Autoren:

MD, MPH Ashwin N. Ananthakrishnan, PhD Raymond G. Hoffmann, MD, MSc Epi Kia Saeian
Abstract
INTRODUCTION
Colorectal cancer (CRC) is the third most common cancer in the United States and a leading cause of cancer related mortality. Routine screening decreases incidence and mortality; however rates of screening remain low. Physician recommendation is a key determinant of screening rates; thus, physician availability may also influence CRC incidence and mortality.
METHODS
Data on CRC incidence and stage at diagnosis was obtained for each county in Pennsylvania from the Pennsylvania cancer registry. Physician density (per 100,000 population) was calculated for each county using physician counts from the American Medical Association. Pearson correlation coefficients and linear regression models were used to examine the association between physician density and CRC incidence and outcomes.
RESULTS
Primary care physician density (Pearson's correlation coefficient: -0.25, p = 0.05) and gastroenterologist density (correlation coefficient -0.25, p = 0.04) inversely correlated with county-level incidence of late-stage CRC. However, this association was seen only in non-metropolitan counties or those with low population density. On linear regression, non-metropolitan counties which had a high density of gastroenterologists had an incidence of late-stage CRC that was lower by 4/100,000 (reduction of 14%). Low population density counties had lower incidence of late-stage CRC by 5/100,000 (reduction of 17%) when they had at least 3.3 gastroenterologists/100,000 population compared to counties with a lower gastroenterologist-per-population ratio. Gastroenterologist density did not correlate with reduced late-stage CRC incidence prior to institution of Medicare coverage for colonoscopy for routine CRC screening.
CONCLUSION
Higher gastroenterologist or PCP density is associated with 14-17% lower incidence of late-stage CRC in non-metropolitan counties or those with low population density. Efforts at increasing physician supply should target these underserved areas.