01.12.2015 | Research | Ausgabe 1/2015 Open Access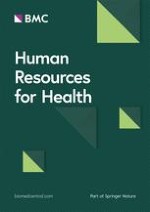 Human resources for health in six healthcare arenas under stress: a qualitative study
Zeitschrift:
Autoren:

Jo Durham, Enrico Pavignani, Mark Beesley, Peter S Hill
Wichtige Hinweise
Competing interests
The authors declare that they have no competing interests.
Authors' contributions
JD contributed to the analysis and synthesised the data from the six case studies and prepared the initial manuscript. EP, MB and PH designed the study and undertook the field research and initial analysis. All authors contributed to the manuscript. All authors read and approved the final manuscript.
Abstract
Background
Research on "human resources for health" (HRH) typically focuses on the public health subsector, despite the World Health Organization's inclusive definition to the contrary. This qualitative research examines the profile of HRH in six conflict-affected contexts where the public health subsector does not dominate healthcare service provision and HRH is a less coherent and cohesive entity: Afghanistan, the Central African Republic (CAR), the Democratic Republic of Congo (DR Congo), Haiti, the Occupied Palestinian Territories and Somalia.
Methods
The study uses a multiple-country qualitative research design including documentary analysis and key informant interviews undertaken between 2010 and 2012. The documentary analysis included peer-reviewed articles, books, unpublished research and evaluations and donor and non-government organisation reviews. A common thematic guide, informed by this analysis, was used to undertake key informant interviews. Informants thought able to provide some insight into the research questions were identified from ministry of health organograms, and from listings of donors and non-government organisations. Local informants outside the familiar structures were also contacted. In CAR, 74 were interviewed; in Somalia 25; . in Haiti, 45; in Afghanistan, 41; in DR Congo, 32; and in the Occupied Palestinian Territories, 30. In addition, peer review was sought on the initial country reports.
Results
The study discovered, in each healthcare arena investigated, a crowded HRH space with a wide range of public, private, formal and informal providers of varying levels of competence and a diverse richness of initiatives, shaped by the easy commodification of health and an unregulated market. The weak regulatory framework and capacity to regulate, combined with limited information regarding those not on the state payroll, allowed non-state providers to flourish, if not materially then at least numerically.
Conclusion
When examining HRH, a reliance on information provided by the state health sector can only provide a partial and inadequate representation of reality. For policy-makers and planners in disrupted contexts to begin to appreciate fully current and potential HRH, there is a need to study the workforce using conceptual tools that reflect the situation on the ground, rather than idealised patterns generated by incomplete inventories and unrealistic standards.