01.12.2015 | Study protocol | Ausgabe 1/2015 Open Access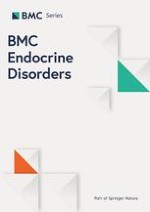 HypoAware-a brief and partly web-based psycho-educational group intervention for adults with type 1 and insulin-treated type 2 diabetes and problematic hypoglycaemia: design of a cost-effectiveness randomised controlled trial
Zeitschrift:
Autoren:

Stefanie MPA Rondags, Maartje de Wit, Maurits W van Tulder, Michaela Diamant, Frank J. Snoek
Wichtige Hinweise
Michaela Diamant deceased.
Competing interests
We have received unrestricted co-funding from Novo Nordisk and Achmea (Dutch health care insurer).
Authors' contributions
SR constructed the design of the study and drafted the manuscript. MdW and FS developed the study, constructed the design and revised the manuscript. MD and MvT participated in the design of the study and revised the manuscript. The final manuscript was read and approved by all authors.
Abstract
Background
Problematic hypoglycaemia is a significant problem among people with insulin-treated type 1 and 2 diabetes mellitus, which adversely affects quality of life and leads to high societal costs. Blood glucose awareness training (BGAT) is a psycho-educational group intervention that has shown to be effective but difficult to implement in clinical practice, due to its demanding nature. The aim of this study is to evaluate the cost-effectiveness of the HypoAware intervention that has its roots in BGAT and helps patients to effectively recognize, treat and prevent hypoglycaemia, while also focussing on the psychosocial consequences of living with the constant risk of hypoglycaemia, both for patients and their significant others.
Methods/design
An economic evaluation will be conducted alongside a cluster-randomised controlled trial in eight hospitals in the Netherlands. We aim to include 154 participants who will either receive HypoAware or care as usual. HypoAware consists of three group sessions and is combined with two online modules. The primary clinical outcome is severe hypoglycaemia. Secondary outcomes include mild hypoglycaemia, hypoglycaemia awareness, fear of hypoglycaemia, diabetes distress, anxiety and depression, health-related quality of life, diabetes-specific self-efficacy and HbA1c. Utilities will be measured using the EQ-5D-5 L questionnaire. Costs will be measured from a societal perspective and include health care utilization, medication and lost productivity costs. Measurements will be performed at baseline, 2, 4, and 6 months to compare both groups, and an additional 12 months for the intervention group only. Process outcomes will be gathered after every group meeting via telephone/email contact with health care professionals and via the online environment.
Discussion
HypoAware is expected to significantly reduce episodes of severe hypoglycaemia, with subsequent beneficial effects on psychosocial outcomes and health care costs. When proven cost-effective, HypoAware will be incorporated in the clinical guidelines of Dutch diabetes care.