01.03.2012 | Review | Ausgabe 2/2012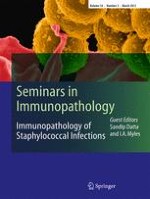 Immunopathogenesis of
Staphylococcus aureus

pulmonary infection
Zeitschrift:
Autoren:

Dane Parker, Alice Prince
Wichtige Hinweise
This article is published as part of the Special Issue on Immunopathology of Staphylococcal Infections [34:3].
Abstract
Staphylococcus aureus
is a common human pathogen highly evolved as both a component of the commensal flora and as a major cause of invasive infection. Severe respiratory infection due to staphylococci has been increasing due to the prevalence of more virulent USA300 CA-MRSA strains in the general population. The ability of
S. aureus
to adapt to the milieu of the respiratory tract has facilitated its emergence as a respiratory pathogen. Its metabolic versatility, the ability to scavenge iron, coordinate gene expression, and the horizontal acquisition of useful genetic elements have all contributed to its success as a component of the respiratory flora, in hospitalized patients, as a complication of influenza and in normal hosts. The expression of surface adhesins facilitates its persistence in the airways. In addition, the highly sophisticated interactions of the multiple
S. aureus
virulence factors, particularly the α-hemolysin and protein A, with diverse immune effectors in the lung such as ADAM10, TNFR1, EGFR, immunoglobulin, and complement all contribute to the pathogenesis of staphylococcal pneumonia.