23.04.2021 | Leitthema | Ausgabe 5/2021 Open Access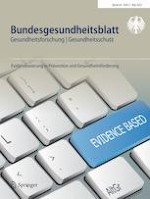 Implementation of evidence-based health promotion and disease prevention interventions: theoretical and practical implications of the concept of transferability for decision-making and the transfer process
Autoren:

Tamara Schloemer, Freia De Bock, Peter Schröder-Bäck
Wichtige Hinweise
The copyright for the models is held by Tamara Schloemer und Peter Schröder-Bäck (Authors):
Introduction
Steps of the analysis of a health problem and identification of effective interventions
Steps of the initial transferability assessment and identification of the need for adaptation
Steps of the implementation and evaluation
Conclusion
The concept of transferability has gained in importance in Germany. An assessment of transferability is recommended before each implementation of an intervention. This is a complex task that comes with challenges. But it also offers opportunities: First, anticipating transferability can in the best case help in selecting and implementing a suitable and effective intervention in a target context. This can contribute to the careful use of limited resources. Second, considering transferability during the transfer process may facilitate understanding and reporting of the conditions under which an intervention works in a target context [
21
,
26
]. On the basis of a differentiated data base, better causal models of the effectiveness of health promotion and disease prevention can be created in the long term [
5
]. This helps to establish an evidence base, which is practically relevant.
Declarations
Conflict of interest
T. Schloemer, F. De Bock, and P. Schröder-Bäck declare that they have no competing interests.
For this article no studies with human participants or animals were performed by any of the authors.
Open Access
This article is licensed under a Creative Commons Attribution 4.0 International License, which permits use, sharing, adaptation, distribution and reproduction in any medium or format, as long as you give appropriate credit to the original author(s) and the source, provide a link to the Creative Commons licence, and indicate if changes were made. The images or other third party material in this article are included in the article's Creative Commons licence, unless indicated otherwise in a credit line to the material. If material is not included in the article's Creative Commons licence and your intended use is not permitted by statutory regulation or exceeds the permitted use, you will need to obtain permission directly from the copyright holder. To view a copy of this licence, visit
http://​creativecommons.​org/​licenses/​by/​4.​0/​
.