01.12.2015 | Research article | Ausgabe 1/2015 Open Access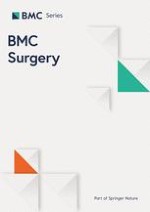 Implementation of the trans-abdominal partial extra-peritoneal (TAPE) technique in laparoscopic lumbar hernia repair
Zeitschrift:
Autoren:

Jing Sun, Xin Chen, Jianwen Li, Yun Zhang, Feng Dong, Minhua Zheng
Wichtige Hinweise
Competing interests
All authors acclaim no conflict of interest in this study.
Authors' contributions
JS and XC managed the patient follow-ups and wrote the manuscript; JL and MZ designed the study; YZ and FD involved in the clinical study management; JS managed the revision process; All authors revised the manuscript and approved its present version.
Authors' information
Jing Sun and Xin Chen are co-first authors.
Abstract
Background
There is still not any standardized operative strategy that is well-accepted all over the world for lumbarhernia. We are here to investigate the feasibility of the trans-abdominal partial extra-peritoneal (TAPE) technique in lumbar hernia repair.
Methods
The TAPE technique was applied to 14 patients with lumbar hernia from May 2009 until January 2014. The surgical technique was described in details and follow-ups were performed for further evaluation.
Results
The mean age of the 14 patients was 68 ± 8 years, with the average BMI 25.5 ± 2.1 kg/m2. The etiology study showed that 13 cases after surgical operations and one case after trauma. The average size of the hernia defect was 86.8 ± 46.4 cm2, while the mean size of the mesh implanted was 275 ± 61.2 cm2. The mean operative time was 59.2 ± 8.2 min. There was no intra-operative visceral injury in this serial of cases. There was no conversion case and all patients accepted the TAPE technique successfully. The VAS was 3.8 ± 1.9 and 2.2 ± 1.6 on POD1 and POD3, respectively. The mean post-operative hospital stay was 4.0 ± 1.3 days. The median follow-up time was 33 months. All patients returned to unrestricted movement within 2 weeks after surgery. During the follow-ups, no complication as bulge, seroma, hematoma, wound infection, abscess in surgical area and chronic pain, nor recurrence was observed.
Conclusions
According to our experience in this series of investigations, the TAPE could be a feasible and easy-to-learn technique which can be applied to most of the lumbar hernia repairs.