01.04.2020 | Clinical Case Report | Ausgabe 2/2020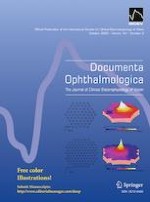 Improvement of reduced electroretinographic responses in thymoma-associated retinopathy: a case report and literature review
Zeitschrift:
Autoren:

Kei Mizobuchi, Takaaki Hayashi, Satoshi Katagiri, Euido Kim, Yasutsugu Ishiba, Sumiko Watanabe, Takahisa Furukawa, Tadashi Nakano
Wichtige Hinweise
Electronic supplementary material
Publisher's Note
Springer Nature remains neutral with regard to jurisdictional claims in published maps and institutional affiliations.
Abstract
Purpose
To report a patient with thymoma-associated retinopathy presenting as having a good visual prognosis.
Methods
Case report and literature review.
Case report
A 42-year-old female patient was referred to our hospital for complaints of sudden visual-field defects bilaterally. Decimal corrected visual acuity (VA) was 1.5 and 1.2 in the right (RE) and left eyes (LE), respectively. Fundus autofluorescence revealed hyper-autofluorescence from the posterior pole to mid-peripheral retina in both eyes. Full-field electroretinography (ERG) amplitudes were reduced to 20–50% and 30–50% of our controls for the scotopic and photopic conditions, respectively. A systemic examination revealed the presence of thymoma, and the patient underwent thymectomy and immunosuppression therapies. Immunohistochemical analysis using the patient's serum showed immunolabeling on the photoreceptor inner segment and outer plexiform layer in the monkey retina. Two years later, VA remained at 1.5 and 1.2 in RE and LE. ERG amplitudes improved to 30–60% of the controls for the scotopic conditions. However, photopic ERG showed no remarkable change.
Conclusions
To our knowledge, improvement of reduced rod-mediated ERG responses has not been described in seven previously reported patients with thymoma-associated retinopathy. The good visual prognosis of our patient may be associated with well-timed intervention.