27.04.2017 | Original Article | Ausgabe 6/2017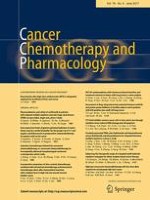 In vitro and in vivo assessments of two novel hydrazide compounds against breast cancer as well as mammary tumor cells
Zeitschrift:
Autoren:

Elham Mousavi, Shahrzad Tavakolfar, Ali Almasirad, Zahra Kooshafar, Soudeh Dehghani, Ahoo Afsharinasab, Amir Amanzadeh, Samira Shafiee, Mona Salimi
Wichtige Hinweise
Zahra Kooshafar and Soudeh Dehghani contributed equally to this work.
Abstract
Purpose
The hydrazide backbone is a well-known structural core system found in a broad range of biologically activated compounds. Among which, the compounds with anticancer activity have been cited in a number of studies. With this object in mind, we focused on the in vitro and in vivo anticancer potential of two novel hydrazide derivatives bearing furan or thiophen substituents (compounds
1
and
2
).
Methods
The cytotoxic property was evaluated using MTT assay against MCF-7 human breast adenocarcinoma cell line, while the in vivo antitumor activity was investigated in BALB/c mice bearing 4T1 mammary carcinoma cells. Flow cytometry was used for cell cycle analysis, and detection of apoptosis was examined by Annexin-V-FLUOS/PI assay. Protein expression of Bax, Bcl-2 and procaspase-3 was estimated by Western blotting.
Results
Compounds
1
and
2
were found to be cytotoxic towards breast cancer cells presenting IC
50
values of 0.7 and 0.18 µM, respectively, and selectivity over normal fibroblast cells. Our findings further indicated that 2 × IC
50
concentrations of both compounds induce early stage apoptosis and increase percentage of sub-G1 population in MCF-7 cells at 48 h. An elevation in Bax/Bcl-2 ratio and caspase-3 cleavage suggested that apoptosis induced by the two compounds is through a caspase- and mitochondrial-dependent pathway. In the in vivo study, compounds
1
and
2
at doses of 10 and 1 mg/Kg/day, respectively, significantly hindered the growth of tumor after 3 weeks of i.p. administration, when compared to vehicle-treated mice.
Conclusion
Collectively, the great potential exhibited by compound
2
could make it a promising chemotherapeutic candidate for human cancers, especially for breast cancer.