01.03.2012 | Original Contribution | Ausgabe 2/2012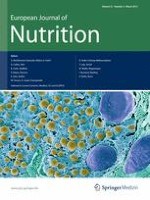 Is vitamin D status known among children living in Northern Italy?
Zeitschrift:
Autoren:

Giuseppina Marrone, Ilaria Rosso, Raffaella Moretti, Francesca Valent, Carla Romanello
Abstract
Purpose
To assess vitamin D status in children aged 2–220 months in northeastern Italy (latitude 46°). Serum 25-hydroxyvitamin D (25OHD) concentration was assessed in 93 children afferent to the Pediatric Department of the Hospital of Udine.
Methods
Vitamin D status was defined as follows: sufficient with serum 25OHD between 50 and 250 nmol/l (level 4); insufficient between 37.5 and 50 nmol/l (level 3); deficient less than 37.5 nmol/l (level 2); severely deficient if less than 12.5 nmol/l (level 1). We investigated the potential risk factors of vitamin D deficit.
Results
We found that six children (6.4%) had level 1, 36 (38.7%) had level 2, 9 (9.7%) had level 3, and only 45.2% had sufficient level of 25OHD. Immigrate children had a higher risk for vitamin D deficiency if compared with Italians: 75% of non-Italian children had an insufficient 25OHD level compared with 47.0% of Italian children (
p
= 0.0036). There was a marked seasonal effect on 25OHD level: when plasma sample was withdrawn between November and May, only 29.4% of children showed sufficient vitamin D level, while 70.5% was insufficient (
p
< 0.0001). Among the obese children, 9.0% had sufficient level of 25OHD with 90% being deficient (
p
= 0.01). We did not find any significant difference in vitamin D status among children in different age groups.
Conclusion
Vitamin D deficiency is common in children living in northeastern Italy. The risk factors were winter season for blood withdrawal, non-Caucasian race, and obesity. These high-risk groups should be targeted for screening and educated about the need of sunlight exposure.