29.11.2017 | Original Communication | Ausgabe 1/2018 Open Access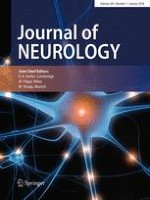 Long-term effects of complications and vascular comorbidity in idiopathic normal pressure hydrocephalus: a quality registry study
Zeitschrift:
Autoren:

Kerstin Andrén, Carsten Wikkelsö, Nina Sundström, Simon Agerskov, Hanna Israelsson, Katarina Laurell, Per Hellström, Mats Tullberg
Abstract
Background
There is little knowledge about the factors influencing the long-term outcome after surgery for idiopathic normal pressure hydrocephalus (iNPH).
Objective
To evaluate the effects of reoperation due to complications and of vascular comorbidity (hypertension, diabetes, stroke and heart disease) on the outcome in iNPH patients, 2–6 years after shunt surgery.
Methods
We included 979 patients from the Swedish Hydrocephalus Quality Registry (SHQR), operated on for iNPH during 2004–2011. The patients were followed yearly by mailed questionnaires, including a self-assessed modified Rankin Scale (smRS) and a subjective comparison between their present and their preoperative health condition. The replies were grouped according to the length of follow-up after surgery. Data on clinical evaluations, vascular comorbidity, and reoperations were extracted from the SHQR.
Results
On the smRS, 40% (38–41) of the patients were improved 2–6 years after surgery and around 60% reported their general health condition to be better than preoperatively. Reoperation did not influence the outcome after 2–6 years. The presence of vascular comorbidity had no negative impact on the outcome after 2–6 years, assessed as improvement on the smRS or subjective improvement of the health condition, except after 6 years when patients with hypertension and a history of stroke showed a less favorable development on the smRS.
Conclusion
This registry-based study shows no negative impact of complications and only minor effects of vascular comorbidity on the long-term outcome in iNPH.