01.12.2017 | Research | Ausgabe 1/2017 Open Access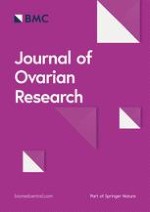 Macrophage colony-stimulating factor (M-CSF) is an intermediate in the process of luteinizing hormone-induced decrease in natriuretic peptide receptor 2 (NPR2) and resumption of oocyte meiosis
Zeitschrift:
Autoren:

Wenchao Sun, Chang Liu, Ying Feng, Guangchao Zhuo, Wenjing Zhou, Xiaoyang Fei, Zhifen Zhang
Abstract
Background
Luteinizing hormone (LH) regulation of the ligand, natriuretic peptide precursor type C, and its receptor, natriuretic peptide receptor 2 (NPR2), is critical for oocyte maturation; however, the mechanism is not fully understood. Macrophage colony-stimulating factor (M-CSF) has recently been shown to be involved in oocyte maturation and ovulation. In the present study we determined whether or not M-CSF plays a role in the intermediate signal that mediates LH regulation of NPR2 in resumption of oocyte meiosis.
Methods
Immature female C57BL/6 mice were injected i.p. with 5 IU of equine chorionic gonadotropin (eCG) to stimulate follicle development. After 44–48 h, the eCG-stimulated mice were injected i.p. with an ovulatory dose of 5 IU of human chorionic gonadotropin (hCG). The ovaries were excised at selected times. Pre-ovulatory follicles (POFs) and cumulus-oocyte complexes were cultured in different media. Immunohistochemical and quantitative real-time PCR analyses were used to assess the expression of M-CSF, M-CSF receptor (M-CSF-R), and NPR2. The presence of germinal vesicle breakdown (GVBD) was examined under a stereomicroscope to morphologically evaluate resumption of oocyte meiosis.
Results
NPR2 was mainly expressed in cumulus cells of pre-ovulatory follicles, while M-CSF and M-CSF-R were expressed in both mural granulosa and cumulus cells. The levels of M-CSF/M-CSF-R and NPR2 decreased within 4 h after treatment of hCG. M-CSF not only reduced the expression of NPR2 mRNA via its receptor (M-CSF-R), but also increased the proportion of GVBD in oocytes.
Conclusion
M-CSF serves as an intermediate signal, thus inducing a vital decrease in the NPR2 levels in cumulus cells, and regulates the process of LH-induced resumption of meiosis.