04.03.2019 | Original Paper | Ausgabe 4/2019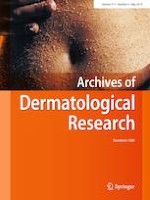 Malondialdehyde, lipoprotein-a, lipoprotein ratios, comprehensive lipid tetrad index and atherogenic index as surrogate markers for cardiovascular disease in patients with psoriasis: a case–control study
Zeitschrift:
Autoren:

Dhaarna Wadhwa, Vikram K. Mahajan, Karaninder S. Mehta, Pushpinder S. Chauhan, Rajinder S. Yadav, Satya Bhushan, Vikas Sharma, Anuj Sharma, Aditi Sharma, Shailja Chauhan
Wichtige Hinweise
Publisher's Note
Springer Nature remains neutral with regard to jurisdictional claims in published maps and institutional affiliations.
Abstract
Psoriasis is now recognized as an immune-mediated inflammatory dermatosis with increased risk for metabolic syndrome, its individual components, and cardiovascular disease. We quantitatively estimated malondialdehyde (MDA), lipoprotein-a (LP-a), lipoprotein ratios, comprehensive lipid tetrad index (CLTI), and atherogenic index (AI), and evaluated cardiovascular risk in 132 (M:F 94:38) patients with psoriasis aged 20–79 years with chronic plaque psoriasis and equal number of age and gender-matched controls. Lipoprotein ratios, CLTI and AI were calculated using standard formulae. Cardiovascular 10-year risk was graded by Framingham risk score (FRS) as low, intermediate and severe. Mild-to-moderate and severe psoriasis was present in 125 (94.7%), and 7 (5.3%) patients, respectively, and 19 (14.39%) patients had psoriatic arthritis. Statistically significant differences were noted for LDL, LDL/HDL, non-HDL/HDL, MDA, LP-a, AI and CLTI. There was a significantly positive correlation between PASI with LP-a (
p
 = 0.003,
r
 = 0.25) and AI (
p
 = 0.012,
r
 = 0.22). Serum levels of MDA correlated positively with LP-a (
p
 < 0.001,
r
 = 0.55), AI (
p
 < 0.001,
r
 = 0.51) and CLTI (
p
 = 0.006,
r
 = 0.24). FRS was low, intermediate and severe in 78%, 18.9%, and 3% patients compared to 85.6%, 13.6%, and 0.8% controls, respectively, and the difference was not statistically significant. Psoriasis appears to be an independent risk factor for elevated serum MDA, LP-a, CLTI and AI. However, whether they can be used as surrogate markers for enhanced cardiovascular risk in patients with psoriasis, remains conjectural.