12.10.2020 | Original Article | Ausgabe 3/2021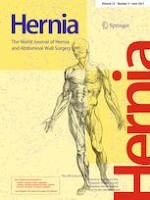 Management of ventral hernia in patients with BMI > 30 Kg/m2: outcomes based on an institutional algorithm
Zeitschrift:
Autoren:

S. J. Baig, P. Priya
Wichtige Hinweise
Publisher's Note
Springer Nature remains neutral with regard to jurisdictional claims in published maps and institutional affiliations.
Abstract
Introduction
Management of ventral hernia in obese is a complex problem. The methods of weight loss, alternatives if the patient cannot undergo bariatric surgery, timing, and type of hernia surgery lacks clarity and are dependent on resources and expertise. There is a need for algorithms based on local population and expertise. In this paper, we present the outcomes of our institutional algorithm.
Methods
It was a retrospective analysis of prospectively collected data. Patients with body mass index (BMI) > 30Kg/m2 were included to undergo surgery as per algorithm taking into account (a) presentation (symptomatic vs asymptomatic), (b) hernia characteristics (defect width, site, reducibility), and (c) obesity characteristics (BMI, subcutaneous fat, android vs gynecoid). Data on age, BMI, comorbidities, tobacco consumption, hernia width, location, contents, previous surgery, intraoperative parameters (the type of surgery, mesh, drain, fixation), and outcomes (seroma, hematoma, infection, recurrence) were collected.
Results
A total of 50 patients underwent treatment as per the algorithm. Mean BMI was 36.6 ± 7.3 kg/m2. The mean follow-up was 17.6 ± 7.2 months. The mean defect width was 4.8 ± 2.9 cm. There were two (4%) recurrences in patients who underwent an anatomical repair under emergency conditions. None of the patients who underwent an elective repair had a recurrence. Total surgical site occurrence was 12% and surgical site occurrence requiring procedural intervention was 8%. There was one (2%) mortality on postoperative day 7 due to myocardial infarction.
Conclusion
The algorithm has shown encouraging results in the short-to-medium term. Long-term evaluation with a higher number of patients is needed to confirm its usefulness.