07.02.2018 | Original Article | Ausgabe 2/2018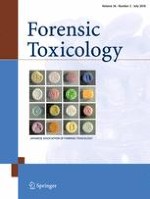 MDMB-CHMICA induces thrashing behavior, bradycardia, and slow pressor response in a CB1- and CB2-receptor-dependent manner in conscious rats
Zeitschrift:
Autoren:

Hideyuki Maeda, Erika Nagashima, Yukiko K. Hayashi, Ruri Kikura-Hanajiri, Ken-ichi Yoshida
Wichtige Hinweise
Electronic supplementary material
Abstract
Purpose
MDMB-CHMICA, a new synthetic cannabinoid (SC), has become prevalent since 2014 as an ingredient of recreational drugs. Reports on intoxication due to the drug have been increasing, which show diverse cardiovascular, psychiatric, and neuronal symptoms. Reports on sudden death and accidental death related to psychiatric disorders in MDMB-CHMICA intoxication have also increased, but the underlying mechanisms are largely unknown.
Methods
As there has been no experimental study on the drug, we investigated the effects of peripheral injection of MDMB-CHMICA in conscious rats.
Results
MDMB-CHMICA induced rapid bradycardia and a slow pressor response. Cardiovascular responses to other SCs have been shown to be inhibited only by cannabinoid receptor-1 (CB1)-antagonists. However, the MDMB-CHMICA-induced bradycardia was inhibited not only by a CB1-antagonist, AM281, but also by a CB2-antagonist, AM630. Unlike other SCs, MDMB-CHMICA induced a gradual increase in mean blood pressure, which was marginally enhanced by the CB1- and CB2- antagonists. For the first time, we demonstrated that MDMB-CHMICA induces a thrashing hypermobile behavior in a CB1- and CB2-receptor-dependent manner, following catalepsy-like hypomobile behavior.
Conclusions
This unexpected response to MDMB-CHMICA may help explain the mechanisms underlying the sudden deaths and accidents associated with its use.