10.08.2019 | Original Article | Ausgabe 1/2020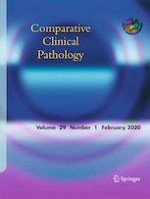 Melatonin synergistically enhances protective effect of atorvastatin against busulfan-induced spermatogenesis injuries in a rat model
Zeitschrift:
Autoren:

Reza Zangoie, Hamidreza Eshraghi, Sadegh Shirian, Ali Kadivar, Hassan Nazari, Ehsan Aali
Wichtige Hinweise
Publisher's note
Springer Nature remains neutral with regard to jurisdictional claims in published maps and institutional affiliations.
Abstract
Busulfan, a chemotherapy drug, causes a variety of adverse effects, such as damage to the reproductive system of male cancer patients. The aim of this study was to investigate the protective effect of intra-peritoneal (IP) injection of exogenous melatonin and atorvastatin alone and in combination on busulfan-induced spermatogenesis injuries and oxidative stress activity in a rat model. A total of 36 male Wistar rats (220–250 g) (
n
 = 6) were randomly divided into six different groups, including atorvastatin, melatonine, sham (received DMSO or busulfan solvent), busulfan, atorvastatin + melatonine, and control groups. Busulfan was diluted in DMSO and intra-peritoneally (IP) administrated in two doses of 25 and 10 mg/kg with a 14-day interval in all groups except the control and sham groups. Administration of atorvastatin and melatonin started 1 day after injection of busulfan. After 28 days, the animals were euthanized and the semen was collected from epididymis and the testicular tissues were removed for sperm parameter assessment and biochemical analysis, including super oxide dismutase (SOD), SOD/total protein (TP), catalase, catalase/TP, and MDA. The highest and lowest values of sperm parameters belonged to the control and busulfan groups, respectively, followed by sham, atorvastatin + melatonine, melatonin, and atorvastatin groups as well as antioxidant enzyme activity. However, MDA activity in the busulfan group was significantly increased compared to that in the other groups. In conclusion, the results of the present study indicated that co-administration of melatonin and atorvastatin and monotherapy can attenuate busulfan-induced spermatogenesis injuries in rats via reducing oxidative stress.