17.10.2016 | Original Article | Ausgabe 6/2017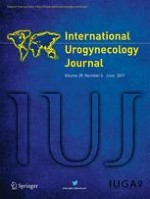 Methodology for a trial of brain-centered versus anticholinergic therapy in women with urgency urinary incontinence
Zeitschrift:
Autoren:

Yuko M. Komesu, Rebecca G. Rogers, Robert E. Sapien, Ronald M. Schrader, Timothy Simmerman-Sierra, Andrew R. Mayer, Loren H. Ketai
Abstract
Introduction and hypothesis
We describe the rationale and methodology for a study comparing mind–body treatment and pharmacotherapy in women with urgency urinary incontinence (UUI). To explore brain associations in UUI, a subset of patients will also undergo functional magnetic resonance imaging (fMRI). We hypothesize that hypnotherapy, a mind–body intervention, will be at least as effective as pharmacotherapy in treating UUI. We also hypothesize that fMRI findings will change following treatment, with changes potentially differing between groups.
Methods
We describe the development and design challenges of a study comparing the efficacy of hypnotherapy and conventional pharmacotherapy in the treatment of UUI. The study randomizes women to either of these treatments, and outcome measures include bladder diaries and validated questionnaires. Sample size estimates, based on a noninferiority test (alpha = 0.025, beta = 0.20), after considering dropout subjects and subjects lost to follow-up, indicated that approximately 150 woman would be required to test the hypothesis that hypnotherapy is not inferior to pharmacotherapy within a 5 % noninferiority margin. The study will also evaluate fMRI changes in a subset of participants before and after therapy. Challenges included designing a study with a mind–body therapy and a comparison treatment equally acceptable to participants, standardizing the interventions, and confronting the reality that trials are time-consuming for participants who have to make appropriate accommodations in their schedule.
Results
Study enrollment began in March 2013 and is ongoing.
Conclusions
We describe the design of a randomized controlled trial comparing mind–body therapy and pharmacotherapy in the treatment of UUI and the challenges encountered in its implementation.